2012 SA Architecture Awards
The 2012 South Australian Architecture Awards from the Australian Institute of Architects were announced at Elder Hall in Adelaide on 7 July, 2012.
Jury comment
Judging the 2012 South Australian Architecture Awards was always going to be challenging, with the ensemble of entries submitted for this year's awards as diverse as in any other year. To add to the complexity, this year the SA Chapter received a record 101 entries. This number of entries points to the quantum of projects completed over the past year, and I suggest that perhaps one reason for the record number of entries is that the slowing of the industry has afforded practices time to compile submissions.
The judging process is subjective and the decisions are left in the capable hands of our experienced peers. And in giving awards we must meet the expectation of the profession, which is that the awarded projects demonstrate excellence. I commend the jurors for their focus on determining the projects of merit and delivering their final decisions.
One impression I took away from reviewing the awards was that the juries were impressed with how the successful projects demonstrated strong connections between architecture, its urban context and the community. These are connections that cannot be contrived, and which are the result of clever planning and refined detailing. Review the winners and make your own observations.  
– Danielle O'Dea (Awards director)
Public Architecture 
Jack McConnell Award
Materials and Minerals Science Learning and Research Building and The Plasso (John Wardle Architects in association with Swanbury Penglase Architects)
Awards

Wilderness School Michell Music Centre (Tridente Architects)
Cardijn College Language Learning Centre (Tridente Architects)
Commendations
Lid on Learning, Trinity Gardens Primary School Resource Centre (KHAB Architects) 
Hub Central (Hassell)
Woodcroft College Multipurpose Hall (Phillips/Pilkington)
Residential Architecture — Houses  
John S Chappel Award
Norwood Residence (Dimitty Andersen Architects)
Awards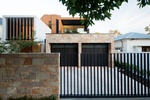 Unley Residence (Con Bastiras Architect)
Creek-chic (Troppo Architects) 
Commendations
Aldgate Residence (Williams Burton Architecture and Interior Design)
North Adelaide Residence (Williams Burton Architecture and Interior Design)
Little at Large (KHAB Architects)
Residential Architecture — Multiple
Newell Platten Award
Lochiel Park Affordable Apartments (Phillips/Pilkington and Greenway Architects)
Commendation  
Accommodation for Older Homeless People (Energy Architecture)
Heritage Architecture
David Saunders Award
Museum of Economic Botany Conservation Works (Grieve Gillett)
Commendation
Adelaide Studios (Grieve Gillett and Cox Richardson Architects in association)
Urban Design
Gavin Walkley Award

Belair National Park Redevelopment (Shannon Architects)
Commendation
UniSA Masterplan 2020 (Hassell)
Commercial Architecture 
Keith Neighbour Award
Adelaide Studios (Grieve Gillett and Cox Richardson Architects in association)
Interior Architecture
Robert Dickson Award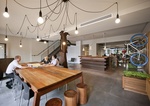 Oxigen Halifax Studio (Oxigen with Woods Bagot)
Commendations
Woodville High School Library (Studio Nine)
Adelaide Studios (Grieve Gillett and Cox Richardson Architects in association)
Small Project Architecture
Award
Beulah Park Extension (Scholz Vinall Design)
Award
Folding Rundle (Sean Humphries Architect and Sasha Radjenovich)
Sustainable Architecture
Award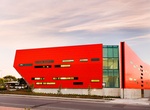 Noarlunga GP Plus Superclinic (Cheesman Architects in association with STH Architects)
Commendations
Oxigen Halifax Studio (Oxigen with Woods Bagot) 
Beulah Park Extension (Scholz Vinall Design) 
Colorbond Award for Steel Architecture 
Oxigen Halifax Studio (Oxigen with Woods Bagot)
Archicentre Renovation Award
Bloodstone Studio (John Adam Architect)
Commendation
Trengove Addition (Swanbury Penglase)
City of Adelaide Prize
Folding Rundle (Sean Humphries Architect and Sasha Radjenovich)
Commendations
45 Pirie Street Forecourt (Hassell)
Oxigen Halifax Studio (Oxigen with Woods Bagot)