2012 WA Architecture Awards
The 2012 WA Architecture Awards from the Australian Institute of Architects were announced at QV1 in Perth on 6 July, 2012.
Jury comment
As is typical for Western Australia, this year's awards entries spanned the length and breadth of the state – from Esperance, our most south-easterly town, to the East Kimberley. From the western side, entries ranged from the popular south-west corner to the Perth metropolitan region (the majority of projects), and into the Pilbara, reflecting the intense development activity of that region, in support of the minerals boom. Of course, the vast majority of the design work for these remote regions is done in Perth, bringing with it a particular set of issues for those undertaking these projects.
Most entries were received in the categories of Public Architecture and Residential – Houses. In a state that's expanding so rapidly, and undertaking so much large-scale urban development, regionally, as well as in metropolitan Perth, there were surprisingly few entries in the category of Urban Design.
This year, for the first time, the WA Chapter held a presentation day for all entered projects at The University of Western Australia's Faculty of Architecture on 31 March 2012. Feedback from the various participants – jurors, presenters, professionals, students and the public – was positive. On the whole, architects were pleased to witness more of their colleagues' work in a supportive and festive atmosphere.  – Patrick Beale (Jury chair)
Public Architecture
Jeffrey Howlett Award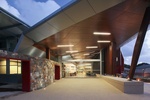 Augusta Margaret River Shire Civic and Administration Centre (Bollig Design Group)
Awards
Trades North at Clarkson (JCY Architects and Urban Designers)  
University of Notre Dame Australia, Fremantle – Tannock Hall of Education (Marcus Collins Architects)
Katitjin Centre, Australian Institute of Management (Cox Howlett and Bailey Woodland) 
Belmont City College Hospitality Trade Training Centre (Gresley Abas)
Presbyterian Ladies' College, Peppermint Grove Middle School, Science and Creative Arts (Marcus Collins Architects)
Commendations
30 Aberdeen Street, Central Institute of Technology, Northbridge (Lyons and T and Z) 
Pam Buchanan Family Centre (Coda)
Serisier Building and Coady Centre, Mercedes College (Site Architecture Studio)
Roseworth Primary School and Education Support Centre (TAG Architects)
Mirrabooka Hospitality Training Centre (Armstrong Parkin Architects)
Residential Architecture – Houses
Marshall Clifton Award

House in Cottesloe (Blane Brackenridge Architect)
Award
Norfolk Farm (Coda)
Commendation
Eagle Bay (Wright Feldhusen Architects)
Residential Architecture – Alterations and Additions 
Peter Overman Award
Kinder Shophouse (Chindarsi Architects)
Award
Gresley Monk Additions (Gresley Abas)
Commendations
North Fremantle Residence (Grounds Kent Architects)
Melvista House (Chindarsi Architects)
Residential Architecture – Multiple
Harold Krantz Award

58 Stevens Street (Officer Woods Architects)
Commendation
East Kimberley Development Package Stage 2 Kununurra for the Department of Housing (Iredale Pedersen Hook Architects)
Heritage Architecture
Margaret Pitt Morison Award
Marsala House, Dianella (Donaldson and Warn)
Award
Cathedral House Conservation and Adaptation (Griffiths Architects)
Commendation
Fremantle Railway Station (Bernard Seeber)
Urban Design 
John Septimus Roe Award
Hilton Community Centre (Bernard Seeber)
Commendation
Claremont Quarter (Christou Design Group and Hassell)
Commercial Architecture
Ross Chisholm Award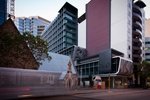 167 Westralia Plaza (JCY Architects and Urban Designers) 
Awards
Alluvion (The Buchan Group)
Women's Health and Family Services (Coda)
Southern Seawater Desalination Plant (Parry and Rosenthal Architects)
Station Street (JCY Architects and Urban Designers in association with Rodrigues Bodycoat Architects)
Interior Architecture
Julius Elischer Award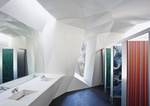 Venn (Matthews Architecture) 
Award
Cultural Centre Amenities (Coniglio Ainsworth Architects)
Commendations
Coda Studio (Coda)
Air Nightclub (Chindarsi Architects)
Sustainable Architecture
Walter Greenham Award
58 Stevens Street (Officer Woods Architecture)
Award
Katitjin Centre, Australian Institute of Management (Cox Howlett and Bailey Woodland)
Colorbond Award for Steel Architecture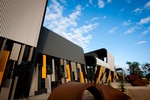 Trades North at Clarkson (JCY Architects and Urban Designers)
Commendation
Melvista House (Chindarsi Architects)
Small Project Architecture
Iwan Iwanoff Award
Cultural Centre Amenities (Coniglio Ainsworth Architects)
Award
Westbury Crescent Residence (David Barr Architect in association with Brett Mitchell)
Commendation
Princess Margaret Hospital Psychological Medicine Waiting Room (Coda)
Mondoluce Lighting Awards
Cultural Centre Amenities (Coniglio Ainsworth Architects) 
Westbury Crescent Residence (David Barr Architect in association with Brett Mitchell)