Australian pavilion: Michael Ford
Masters student Michael Ford (UTS) is helping build the Australian pavilion for the Venice Architecture Biennale, and reporting back as he goes.
There are currently around forty people on site at the Australian pavilion working in unison but also autonomously on their own installations to form the pavilion.
There's great anticipation for what the final collective exhibition will look, as well as a slight sense of fear that the next step undertaken in the installation process will open up a 'can of worms' and bring numerous minutes or hours of discussion and modification to the previous design.
Many people from other pavilions have commented on the sheer number of people and scale of work being undertaken at the Australian site, so hopefully this puts us in good stead.
The three Formations currently with the largest presence on site are Archrival, Supermanoeuvre and Richard Goodwin all moulding, constructing and positioning their various prefabricated elements for the exhibition. Soon the Maribor Team, Healthhabitat and The Architects radio show will place their stamp on the space, which will be fantastic to see.
For my part, I have been imbedded with the creative team focusing on a shelf that twists and turns around the entire pavilion, acting as a universal datum line for the exhibition inside.
Some may see this as trivial and 'just a shelf', but to see something designed in Sydney via email, then precision-engineered to fit into a building on the other side of the world, and it working, is truly amazing.
Usually builders work to a two-millimetre tolerance. On some design build project constructed in a short time span you can be even looking at an eighty to a one hundred millimetre tolerance. When you have the head of an architecture school, an architect, two internationally recognised graphic designers and a student of architecture building a shelf you get half a millimetre to one-millimetre tolerances.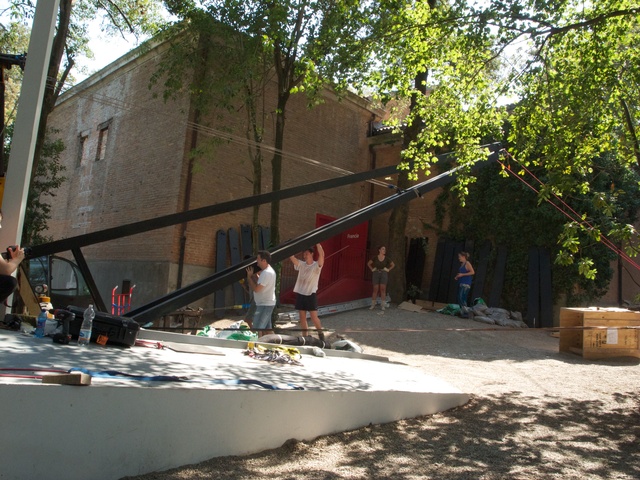 Above: Lifting one of five of the Archrival towers, which will contain and signal the foosball tables that form the "Arena Calcetto" round the Australian pavilion. This tower is nearly nine metres high, the largest in the series, and is located next to the pavilion entrance.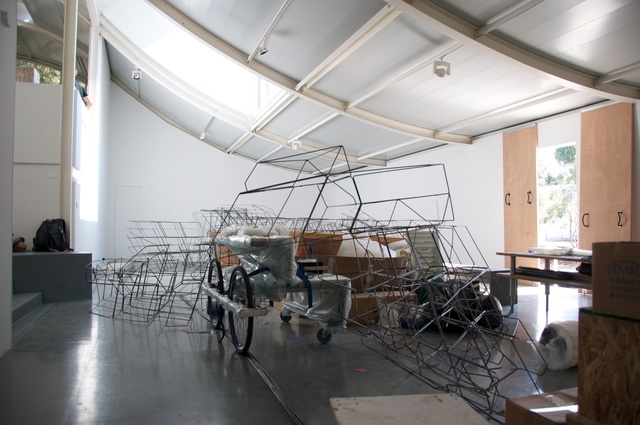 Above: Various elements in the pavilion at the commencement of the bump-in period, including "The Architects" mobile radio cart, sections of the Supermanoeuvre structure and the opening cut into the Australian Pavilion's wall to form the exit point for Richard Goodwin's performance piece.
Above: Inside the pavilion, part of Supermanoeuvre's installation awaits assembly. In the background is the cantilevered shelf that will display Supermanoeuvre's Formation panels and a series of bent steel elements showing the procedures used to form their structure.
Michael Ford is in Venice as part of the Byera Hadley Travelling Scholarship. His correspondence and time lapse videos of construction of the Australian pavilion at Venice can also be followed at: 
Fordhitecture.net
Architectureinsights
twitter.com/fordhitecture
Formations Facebook page