There has been an explosion in dining typologies in Australia, but are the new restaurants any more authentic or sophisticated than the old?
Australia's cultural maturity is seldom more apparent than when we are eating. Back in the 1980s – when my biggest culinary dilemma was "Bubble O' Bill or Golden Gaytime?" – going out to tea (sic) demanded one simple decision: "down the pub for a countery" or, for something adventurous, a trip to the local Chinese? I'm exaggerating for the sake of an editorial gambit, but you get my point: in a very short space of time, the number of options for dining and food shopping in this country exploded from a handful of earnest archetypes to an anxiety-inducing plethora of formats and fusions. Accordingly, our expectations for restaurant, cafe and food retail fitouts changed too. Literal representations – Chinese lanterns, fiascos of chianti strung from walls, fishing nets and buoys – quickly became "kitsch" (Australia had "grown up") and the restaurant in particular became, much more explicitly, a "designed space."
If all those quotation marks didn't give away my cynicism, let me ask the question aloud: are we really that much more sophisticated now? After all, "authenticity," fraught an idea as it must surely be, is still considered a legitimate foodie superlative.
George Calombaris's "traditional taverna," Hellenic Republic, has been a wonderful addition to the burgeoning foodie scene of Melbourne's inner-north. Woven lampshades swing over blue-and-white-tile tabletops; a busy open kitchen adds a touch of theatre; and, in amongst the tightly packed shared tables, floor staff and patrons are drawn together in a bustling dance of Zorba. It's a great restaurant and the food is faultless. But set against the unselfconscious Mediterranean and Middle Eastern cornucopia of Sydney Road, a stone's throw away, it forces a double-take. It's like comparing a solid piece of wood, albeit well-worn, with the latest veneer. Is Hellenic Republic "traditional" or is it a new kind of kitsch, just with more money and a little more taste?
Down the road in Fitzroy, another hospitality archetype is about to get a makeover. Chef Andrew McConnell (Three One Two, Cutler & Co, Cumulus Inc, Golden Fields and others) has taken the lease on The Builders Arms, a pub variously home to bands, gangs and, on Thursdays in the mid-2000s, the excellent and all-inclusive Q&A (queer and alternative) indie night. When the news broke, The Australian quoted McConnell as saying, "We'll smarten the place up but it doesn't need a massive makeover. There's a dining room, a beer garden, and it's time to bring back the counter meal." Given McConnell's sterling track record, hopes are high – maybe The Builders Arms will reopen as an inspiring and self-aware new take on Aussie pub culture – but most recent inner-city pub refurbishments have been underwhelming, simply taking the old building and applying shinier surfaces, the business model more apparent than the design vision.
Is this the new paradigm? Are these the same old archetypes polished up to capitalize on Australia's enduring affluence? Are words like "meta" and "irony" really just naive euphemisms for kitsch 2.0? Is my local Twitter-powered food truck, Beatbox Kitchen, really so much more compelling than Mr Whippy?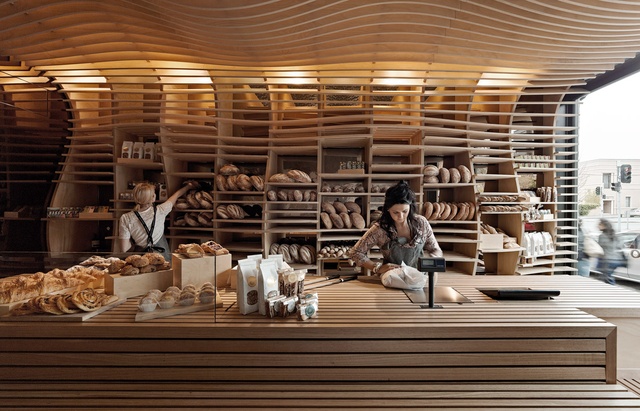 The answer to that last question is yes: Beatbox Kitchen does great burgers and the paint job on the truck is very cool. As for the rest of it, there are some fine examples of genuinely new design for eating, and they are the ones we should be celebrating. Not far from The Builders Arms, over in Carlton, a recently opened outpost for the much-feted Baker D. Chirico takes the old, literal approach to design for food in a completely different direction. The whole shop has been imagined as an oversized bread basket, crafted from blonde plywood that merges walls and the ceiling in sweeping, organic curves and provides nooks and ledges for the storage and display of myriad pastries and loaves. It's fabulous – at once forward-looking and nostalgic – and the designers at March Studio are to be commended. With any luck, their work here will inspire others.
Consider this: if the same approach was applied to the Chinese restaurants of my youth, the suburbs would be dotted with luminous paper lanterns the size of houses. Yes, please!