The sophisticated designs of Turkish studio Autoban are layered with an alluring playful edge.
In Germany, an autobahn is a freeway on which motorists can drive as fast as they like – a streak across the landscape, arriving at their destination fresh and carefree. Turkish design duo Seyhan Özdemir and Sefer Çaglar took something of this notion when they came together in 2003 to form Autoban, an architecture, interiors and product design studio located in Istanbul.
Autoban adapted the ubiquitous German autobahn road sign as its logo, as a reflection of the studio's belief in moving forward quickly and with purpose to create objects and spaces that are unique in form and compelling to experience. It is this belief that has helped the duo to grow from a pair of ambitious design school graduates to the directors of an in-demand studio with an impressive list of international clients and awards.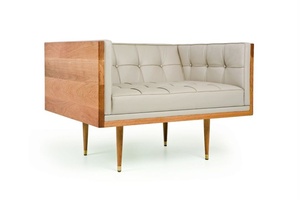 "The main principles of modern architecture form the base of Autoban's interior, architecture and product design approach," says Seyhan. "Every product is the outcome of Autoban's search for the aesthetic composition that material, form and structure together can give."
These strong principles give Autoban's lighting and furniture collections a highly structured, sophisticated base that is often layered with a whimsical, playful edge. "Our experimental approach to design becomes our main challenge," says Seyhan. "All the trials on new techniques of production push us forward, the questions that we work on constantly are naturally challenging."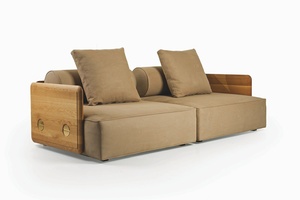 There's also a thematic search for new angles on traditional styles in the designers' work. It is seen in designs such as the Box Sofa, which is strongly inspired by the 1950s Modernist movement, and the Deco Sofa, which is a contemporary reimagining of the rounded forms and generous proportions of an Art Deco lounge. The level of craftsmanship and quality seen in each piece reflects an underlying design philosophy. "We like using natural materials in terms of the feeling it gives, instead of artificial ones," explains Seyhan. "We combine precious and true materials with advanced technological practices."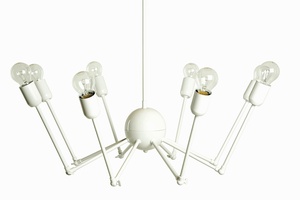 Autoban shows off its sculptural prowess most boldly in its lighting collection. Both the Spider and the Octopus chandeliers have organically inspired shapes honed to their geometric essence. "Our lighting fixtures are inspired by forms that create a dramatic visual statement and inspiring shadow effects," adds Seyhan.
As Autoban continues to power ahead, bringing to life architectural, interior and product designs across Turkey and around the globe, it can be certain that it will pause just long enough for new inspiration, but never long enough to fall a single step behind. 
autoban212.com 
spenceandlyda.com.au