Conquering her fear of flying, Cassie Hansen takes a helicopter tour of Melbourne with photographer John Gollings.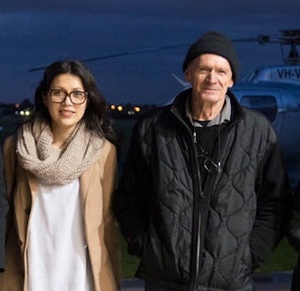 It's one thing to go on a helicopter ride over Melbourne, it's quite another to do so with fearless architectural photographer John Gollings leaning out the open door while the pilot brings us as low into the city's air space as aviation laws allow. Add to that an irrational fear of flying (as I unfortunately have), and here's a word of advice for you: Rescue Remedy – "calming treatment for stressful situations"  – take heaps of it.
The helicopter ride with Gollings as tour guide was part of the "Take your ideas to new heights" promotion by Architectural Window Systems's Elevate Aluminium. This experience for me began with a few jokes from our pilot: "This is my first time flying one of these. Where do I put the keys?" Hilarious now, not amusing at the time. Taking off from Moorabbin to Melbourne's south-east, we headed for the city centre, where Gollings aimed his lens at houses, rooftops and CBD buildling facades.
Take-off was smoother than I expected, and within minutes we'd reached the coastline of Port Phillip Bay and approaching the landmark Brighton Bath Houses. It was then that the pilot quipped that Gollings would be opening the side door to take a closer look. Another joke I thought! And laughed … until I noticed Gollings reaching for the handle. All at once the door was open and he was leaning out, camera in hand, and cold air was rushing in as I held onto my seat and my stomach.
As the helicopter circled so Gollings could get a better angle, I plucked up my nerve and look over his shoulder to the water far below. When the door finally shut, I began smiling uncontrollably; my fear was gone. Here's why: when you're doing doughies in a helicopter with an open door, it's just cool – it's no time to be a bundle of nerves. 
From Brighton we followed the coast before turning north at Luna Park in St Kilda towards South Yarra and the Walsh Street House by Robin Boyd. Here, the helicopter got as low as it could and Gollings took shots of Boyd's iconic courtyard. Now I was actually enjoying myself and clambering for better views out the window.
Next stop CBD. Here we hovered beside Eureka Tower, so close we could see our reflection in its shiny facade. Then, flybys over Federation Square, Swanston Street, the Myer building, Docklands, Princes Pier in Port Melbourne and finally the Westgate Bridge.
As the day progressed the pilot battled time, angling the helicopter so Gollings could capture the sun peeking out from the clouds to light up a facade or rooftop.
Not only had I conquered my fear of flying, I also discovered the beauty of the bird's eye view: clusters of cars in a traffic jam; plumes of tree foliage; roof top rows of airconditioning units; staggered skyscrapers across the city skyline; silent rows of parked cars. It's a beautiful way to look at the world, and if there's a next time, I'll be doing it without the Rescue Remedy.