Blaxland Riverside Playground
An energising playground at Sydney Olympic Park by JMD Design uses moulded terrain and supersized equipment to bring challenge and fun back to the park.
The recent opening of the final stage of the Blaxland Riverside Playground regional playspace heralds another major step in the activation and consolidation of the northern part of the park and the Newington Armory arts precinct, both in Sydney Olympic Park. Thousands of visitors are drawn here to attractions at the water's edge – including heritage and cultural facilities, cafes and kiosks, and programmed events, activities and tours – each well connected to other parts of the parklands. For the increasing number of visitors, residents and people working in and around Sydney Olympic Park, improved access to facilities and their associated landscapes has enhanced a growing sense of community.
The most recent addition to the parklands, a three-hectare playspace in Blaxland Riverside Playground, includes a high capacity play hub. The expansive and eye-catching assemblage of play settings is different in look and feel to other playspaces at the park, and indeed to other playgrounds around Sydney. JMD Design, working with Sydney Olympic Park Authority's in-house design managers, has created a memorable and exciting destination that will engage children of all ages and abilities.
Sited on the grassy slopes above the Parramatta River, the new playspace is visually enclosed on the north by riverfront vegetation. Bowl and wedge shapes that create room-like spaces unfold and open onto a pedestrian and cycleway path that borders it on the south. Play mounds are sculpted to a 1:2 slope, at almost three metres high in places, creating intriguing spatial and visual qualities that invite running, climbing, jumping and lots of squealing. Most of the surfaces are covered with poured rubber softfall in brilliant green and purple stripes, or artificial turf over impact-absorbing matting. The primary program for the playspace is gross motor play, and students from Newington Public School who were visiting the playspace on opening day confirmed, as soon as they were let loose to test it out, how well the design activates this kind of play. Playing in these over-scaled spaces – on the biggest swings, the longest slides, the tallest mounds, the widest climbing net, the highest tree house – appeared to be an exhilarating experience.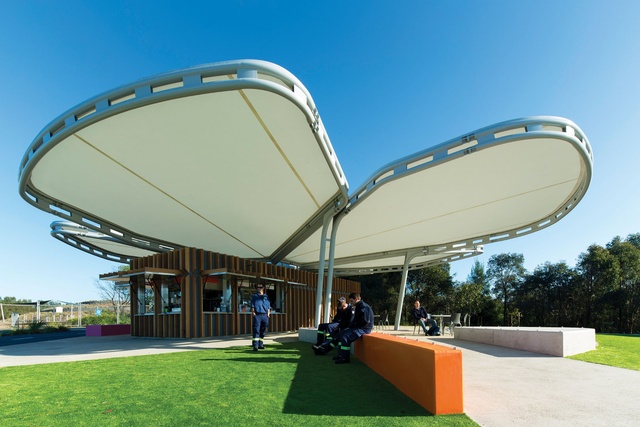 To mark the western end of the playspace JMD Design* created a towering tree house of stacked slatted-timber boxes and wire cages. Once kids conquer the top level they can enjoy a spectacular view over the site and up the river. Tonkin Zulaikha Greer Architects designed the kiosk at this end of the site. A flower-like shade structure covers the simple cube shape of the kiosk, which incorporates parent and change rooms for post water play.
The water play feature, also by JMD Design*, incorporates 170 water jets over an area of 165 square metres. Each jet can be programmed for different seasons and effects: from gently captivating arcs of spraying water, to invigorating surging and bubbling streams. This spot is sure to be highly popular during Western Sydney's hot summer days. Alongside the water feature a sand play area presents a change of pace and interaction with natural materials, in contrast to the high-activity dynamics of other play areas. A grove of umbrellas provides welcome shade, as tree planting within the play area is generally limited to maintain view lines through the site to the river.
The designers have integrated a mix of mostly off-the-shelf play equipment with some bespoke items. Swings and slides, all-time favourites for generations of children, are included in the form of a giant swing with a variety of swinging bits, and a trio of steep, fast slippery dips embedded in a mound at the eastern part of the playspace. Play equipment that has been long-banned for safety reasons – a boat swing and a playground roundabout – have been redesigned by German manufacturer Kaiser and Kuhne. The new Viking swing is made of thick braided rope, and the dangerous old roundabout has been replaced by a sort of spinning satellite dish that can accommodate an impressive number of children.
Reworking the park's multi-layered landscape is a challenging task and every proposed design intervention is considered from multiple perspectives, which often involves a layering of consultancies. For example, original concepts from the Millennium Parklands masterplan by Peter Walker and Associates and Hassell, and later the principles of the Blaxland Riverside Playground masterplan by Hargreaves Associates, influenced previous ideas investigated by Phillips Marler Architecture for a riverside playspace, which would have located it closer to Walker's river marker (one of five conical-shaped earth mounds that provide extended views of the park). The final location and scope of the project shifted with a contribution in 2010 of $6.9 million from the former New South Wales state government. Throughout the development stages of such a project, the client's design managers must guide a process that encourages creativity while remaining faithful to the design thinking that has informed the parklands' framework for, and commitment to, innovation and sustainable development. When the project is a play environment, the approach must also respond to the essential requirements of Australian safety and universal access standards.
The Blaxland Riverside Playground regional playspace is already proving to be a highly attractive destination with almost 4,500 visits on a busy weekend. Blogging and tweeting parents have quickly spread the word that this playground is "pretty blooming spectacular" (seanasmith.com). The success of this mega-regional playspace reminds us that families are always on the hunt for high-quality, affordable destinations for daily and weekend excursions, and that we need to provide a greater range of welcoming and inclusive play environments throughout metropolitan regions, at many scales, for the young people who share our lives.
Linda Corkery was appointed to the Sydney Olympic Parklands Advisory Committee in late 2011.
* Corrections: in Landscape Architecture Australia 135, the tree house design was incorrectly attributed to Tonkin Zulaikha Greer Architects, and the water feature design was incorrectly attributed to Waterforms International.