Coastal retreats: homes for rest and relaxation – Houses 84 out now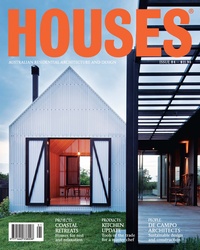 The home is a retreat from the fast pace of day-to-day life. There's something so rewarding about enjoying a glass of wine in a relaxing living environment after a long, busy day. Even more appealing is "getting away from it," physically and mentally, by escaping to a holiday house.
A number of houses in Houses 84 are located in coastal areas – both inner-city beaches such as Coogee in Sydney and quieter, coastal towns such as Balnarring Beach on the Mornington Peninsula. The city beachside houses embrace the alluring qualities of the ocean while retreating from the crowds of beach-goers. The Bondi House by Katon Redgen Mathieson is like a telescopic lens pointed at the view, but with the living spaces raised, the crowds of Bondi Beach aren't in sight. An internal focus on central courtyards at the Coogee House by TFAD with Annie Benjamin creates a secluded family oasis.
We all have fond memories of beach holidays. There is nothing better than the freedom of holidays – part of this is being able to spend the majority of the time outside. The Balnarring Beach House by Simon Couchman Architects merges with the landscape in a series of breezy indoor/outdoor spaces. The Peregian Beach House Two by Sparks Architects embraces the surrounding wooded dunes, with emphasis placed on the expansive decks.
Our cover for this issue features a project at Barwon Heads by Jackson Clements Burrows. This new holiday house will become a permanent residence for the owners once they retire, so they can retreat from city life all year round – something many of us would aspire to!
This issue also includes homes by Owen and Vokes, Architects EAT, Fox Johnston, dm2 Architecture and Matthew Gribben Architecture. We also take a look at de Campo Architects' suite of residential projects using precast concrete construction and revist J. H. Esmond Dorney's Fort Nelson House, built on an abandoned 1900s fort on Porter Hill, Tasmania. In our new First House series, Patrick Kennedy of Kennedy Nolan reflects on the first residential project he and his business partner Rachel Nolan designed thirteen years ago.
Follow Houses on Twitter and like us on Facebook to keep up to date.
Read more of our house reviews here.
Buy now – purchase single issues.
Subscribe now – receive the six issues of Houses per year straight to you.
Houses is also now available in a digital edition for tablets, mobile devices and computers. You can purchase single issues and digital subscriptions online for instant delivery anywhere in the world.