Creative spaces for techies
In the world of office design, IT companies often lead the way in forming creative workplaces.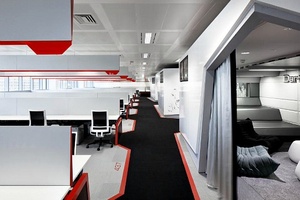 It all started with the Googleplex, created by Clive Wilkinson Architects for Google in 2005. Working closely with Google's executive and staff, Wilkinson interpreted the Google ethos – formed primarily by hard-working, creative engineers who love machines, toys and games – into a contemporary, creative workplace. This set the benchmark for IT companies the world over.
Since then, many others have followed suit, hiring interior architects to create their new workplaces. From Facebook by Studio O+A (2009), to Twitter by Sara Morishige Williams (2009), to Microsoft's Pioneer Studio by SkB Architects (2010), to Wotif by Marc & Co (2011).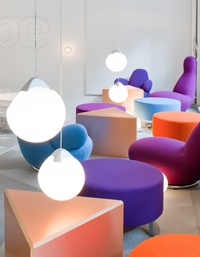 At the new office of Google Engineering in London, interior architects from Penson chose a Starship Enterprise theme, with what they term "Flight Pods" providing "semi-private slouching-come-formal seating opportunities." In addition, there is a mix of staff facilities, including gaming rooms, music studios, a park, a coffee lab, lounges, micro-kitchens and an auditorium called Tech Talk.
At the Skype offices in Sweden, the approach is less fantasy-oriented, but still inspired by the brand. PS Arkitektur conceived a graphic pattern of interconnecting voids to symbolize the interconnected nature of the world via Skype, and used this pattern throughout the interior. The "bubbly" furniture reflects the shape of the Skype logo itself, and the acoustics are extremely high-tech, as is expected of a company that deals in audio and video development.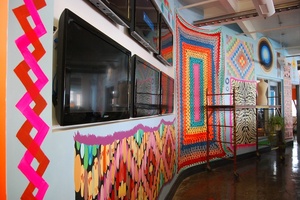 Others, like the Etsy offices in New York, have chosen not to involve interior architects, instead unleashing the creativity of their staff. In this case, the entire workspace reflects the company's core business: craft.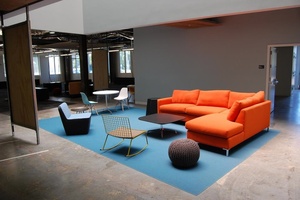 Facebook does not list an interior architect as having worked on its new office in Menlo Park, California – its first permanent home. When asked whether it used a designer or architect, the company's PR contact did not provide an answer. They did, however, give out a lot of information about the project. Inhabiting existing buildings as part of a campus, Facebook tore down unnecessary internal walls so everyone could sit in the open with their teams. They scattered breakout spaces throughout the campus and plans are afoot for two cafes, two coffee shops, a doctor's practice, a fitness centre and more. Facebook has also provided information about its pursuit of LEED Gold certification, offering staff recycling and composting bins and stating that all new doors are recycled.
For IT fans and architects, what is probably the most exciting new office for a tech company has not yet been built: the Apple headquarters by Foster + Partners. There are three things that make this project stand out. Firstly, it is massive – covering over 260,000 square metres and accommodating up to 13,000 staff, more than the population of a small town. Secondly, it is green – an onsite power plant will provide most of the electricity for the building, while other strategies include minimizing energy demand, reducing car travel and increasing the use of reclaimed water. And thirdly, it is ring-shaped, which makes it look like a spaceship or Frisbee rather than a corporate building.
These IT companies are examples of big organizations with extensive resources with the foresight to invest in interesting architecture and interior design. Creative, forward-thinking spaces are better for everyone – particularly for the staff, and for the company and its corporate image.