De Urbanisten and the Wondrous Water Square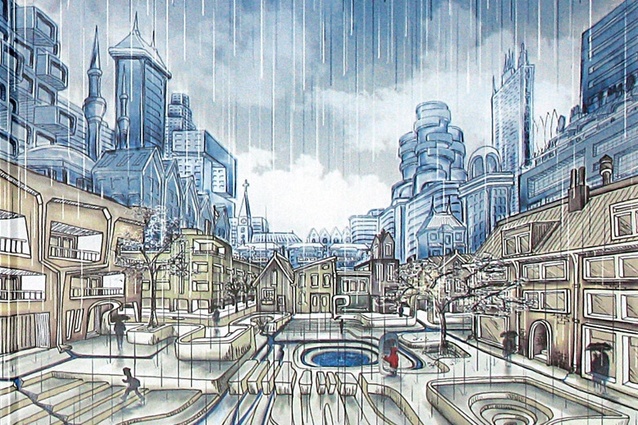 Presented as part graphic novel, part new-age high-school textbook, De Urbanisten and the Wondrous Water Square traces the findings of Florian Boer and his team De Urbanisten (English translation: The Urbanists) as they work on the first water square in The Netherlands.
As eloquently explained, the water square is an area in a public space where water can be stored when it rains heavily. During the majority of the year when the square is dry, it is used as a place for sports and leisure and during times of heavy rainfall, the square is used to store water temporarily. Cut-out photos of Boer appear throughout the book, with much of the book's text written in the first person and appearing as speech bubbles from Boer himself, while pages are broken up into comic book-style tiles.
Hundreds of sketches, diagrams and photographs of Boer's work and research depict the possibility, effectiveness and challenges of constructing water squares in Rotterdam to accommodate 600 million litres of extra rainwater annually. Fittingly, it is a very smart and original book, illustrating a very smart and original resolution to a global urban predicament.
Florian Boer, Jens Jorritsma and Dirk van Peijpe (eds.), Uitgeverij 010 Publishers, hardcover, 2010, 49 pp. RRP $21.