From the conceptual to the real world, there is a wealth of emerging talent out there – we cherry pick a few of the best.
Spun Lamp by Evie Group
Scattered about the floor, silent and still but brilliantly aglow, Spun lamp, the latest offering by emerging Sydney design duo Alex Gilmour and Dominic Chong of Evie Group, looks like the aftermath of playtime at a kindergarten for giant toddlers.
Playfulness is key to this floor/pendant/table lamp inspired by a child's spinning top. The power cord, so often the unavoidable ugliness of electrical appliances, can be artfully arranged to look like the pull string of the humble toy.
The way the lamp lingers on the floor asking to be played with is sort of bittersweet. The classic toy has been adult-ified with sleek gold or silver polished mirror casing without visible screws or fasteners. The spinning days are over: you can look but don't play. But looking at these lamps, silent and still but brilliantly aglow, is a delightfully adult experience.  – Marcus Costello
Evie Group, +61 403 959 391, eviegroup.com
Robots of Brixton by Factory Fifteen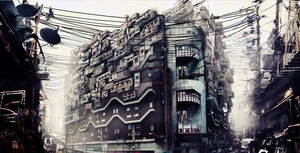 In the wake of the 2011 London riots, a shaken bourgeoisie cried out that we are of an "ill-bred" generation. Months before the first rock was thrown, the short film Robots of Brixton was circulating the internet in a case of what might be life imitating art. In the film, the future cityscape of Brixton is populated with an "ill-made" robot underclass that storms the streets and rises up against the police in an epic battle.
Robots of Brixton was made by Factory Fifteen, a group comprising graduates of Nic Clear's visionary Unit Fifteen course at the Bartlett School of Architecture, London. Consisting of film, animation and architectural representation, the aim of their work is to inspire new thinking in much the same way the surrealists did.
While Robots of Brixton paints a disturbingly bleak future, Factory Fifteen nonetheless lives in hope of a coming together of artists and architects to forge a creative practice where specialization gives way to a hybrid, multi-skilled approach.  – Marcus Costello
Factory Fifteen, +44 7725 986 715, factoryfifteen.com
Scrumptious Reads by A-CH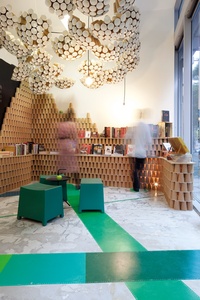 There's much visible joy in A-CH architects' design for Scrumptious Reads. As the name so clearly suggests, this is a bookshop devoted to eating, cooking and food worship. In a MasterChef world, Scrumptious Reads lifts the bar and concentrates on beautiful, intelligent and seriously researched literature, without losing the fun side. Smart homewares, dining accessories and kitchen tools are also on offer.
A-CH directors Melody Chen and James Hung have obviously enjoyed their first dabble in a commercial interiors project that not only encompasses a temporary fitout, but also thoroughly engages with the branding of the new business.
Establishing the store's brand identity became inextricably linked to designing the interiors. Pop-up stores often suffer from their appearance of collapsibility. A bespoke bookshop that ferries arthouse foodie lit is very much about the experience, and here A-CH flips temporality on its side in order to create a fetching, artificial landscape from disposable cardboard coffee cups. "We hadn't intended to use paper cups," says Chen. "We experimented with a number of food-related containers but the cups work well because of their form."
The mocha-coloured cardboard cones are recyclable, disposable and deceptively strong. Their stacking in strata makes play of the repeating patterns of the surface corrugations. The gaps between the cone shapes are also exploited through backlighting, so that the walls – or cliffs – of cups affect filigree screens. Spheres and part-spheres drop from the ceiling as stalactite pendant lights, and the metaphor of entering a cave is inherent.
With a tight budget and an even tighter time frame, the construction method was suitably simple. Hung and Chen enlisted their studio staff to make models in-house as well as setting the owner, themselves and "people off the footpath" to work for a six day bump-in.
The cups are stapled together at their rims, with their base line glued to the floor. Shelves of MDF rest on the cup plinths, and patches of blackboard applied to the walls offer customers quotes and words of wisdom. Floors are marked in thick linear strips of recycled green contact, directing traffic while signaling the subliminal message that pops up in the form of the giant green apples dotted around – green is good.  – Margie Fraser
A-CH (Atelier Chen Hung), +61 7 3846 3089, a-ch.com.au
Suspended Ceiling Installation by Skins Studio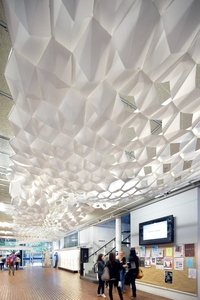 The once closed-in and characterless ground-level concourse of the University of Melbourne Architecture Building now has an intriguing cloud-like skin of translucent polypropylene suspended from the ceiling.
The permanent structure, the outcome of the Skins 2010 Design Studio in the Master of Architecture program, is a study in parametric modelling (whereby data is given form). Students used Grasshopper software, a generative algorithm editor, to transcribe a twenty-four-hour record of stationary and moving bodies within the concourse into a network of peaks and troughs.
It was intended that students would "discover new forms of collaboration with industry, challenge conventional methodologies, and suggest a future in which designers are much more engaged in the total process of architecture." New technologies have created shifts in architectural practice. Where once structures were plumbed from the wellspring of knowledge tempered by imagination, creation has now a cyborg's knack for divining algorithms. Architecture born of the cyborg is flourishing around us, a spur in the side of mere mortals.  – Marcus Costello
Skins Studio, Faculty of Architecture, Building and Planning, University of Melbourne. Students: Angelica Rojas, Fereshteh Tabe, Henry Tan Chia Zeh, Goh Kai Kheng, Tan Yee Peng, Wong Chern Xi, Keong Pei Yi, Sun Shuli, Kathy Wu, Melody Tong, Adeline Leng, Neo Fu, Alex Wong, Rachel Jones, Chris Loh, Nicole Teh. Lecturer: Eugene Cheah.
Plantation by Barbara & Fellows and Foolscap Studio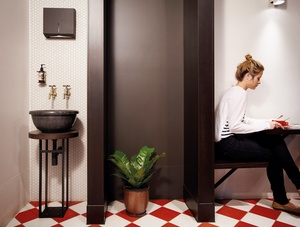 If Melbourne is the Holy Land for coffee in Australia then St Ali just may be its patron saint. The very successful South Melbourne cafe recently spawned Plantation at Melbourne Central. The plan called on the newly formed design team of Jennifer Lowe and Brooke Thorn of Barbara and Fellows, and Adele Winteridge of Foolscap Studio to devise a hollowed space for the city's coffee connoisseurs.
The store layout encourages customer interaction with alternative coffee-making methods, such as pour-over and cold-drip coffee. A custom-made cold-drip coffee dividing wall brings occupants into close contact with the product and an aroma station adds a sensory experience to the retail area.
As with all sensible architecture, the design of Plantation engages in a historical discourse with its environs; in this case, Melbourne Central, a precinct dating back to the colonial era. Of course, the colonial era was also the boom time for coffee merchants and the store's material choices – natural stone, timber and copper joinery and hand-forged steel facade doors – conjure up the ornate homesteads of this bygone era.  – Marcus Costello
Barbara and Fellows, barbaraandfellows.com.au
Foolscap Studio, +61 3 9602 2630, foolscapstudio.com.au