Food for thought: Our Houses talk
A community-focused talk on 25 October at Melbourne's Treasury Theatre about the making of Wattle Avenue House. Bookings essential, details below.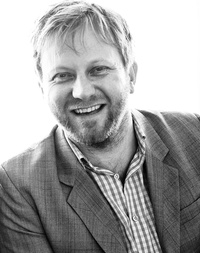 Join Jan van Schaik of Minifie van Schaik Architects and his clients in the Wattle Avenue House for the latest in the Our Houses series of talks about creative collaborations between client and architect.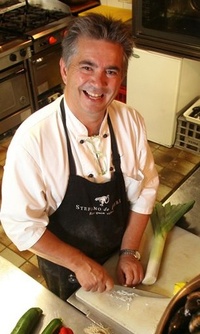 In this case the clients are renowned chef Stefano de Pieri and his partner Donata Carrazza. Together they will talk with Van Schaik about the making of their home on a suburban block in regional Victoria – a rather surprising bag of tricks starting with a bland brick veneer box made brilliant by a faceted geometric addition.  
Stefano de Pieri and Donata Carrazza are respected a­dvocates for the Mildura community, with a strong and public presence and commitment to changing attitudes towards the town where they live. Similarly, architect Jan van Schaik is interested in the way that architecture can assist in changing perceptions of a community. Through his work on the Old Mildura Base Hospital and a speculative, masterplan exhibited at the London Architecture Festival, van Schaik began to explore these ideas as they relate to Mildura.
It was this alignment of ideas that led Stefano and Donata to commission Minifie van Schaik to design their new family home. They had purchased a house of typical Mildura vernacular which they wanted to highlight. The distinctive addition to this humble house has become well known in the community, even beyond Mildura, becoming an aspirational kind of public building. Wattle Avenue House won an Australian Institute of Architects (Vic chapter) for Residential Architecture: Alterations and Additions in June 2012, and is reviewed in Houses 88 (October 2012). 
Presented by Houses magazine, Our Houses is a series of informal public talks looking beyond the finished building to explore how architects and their clients work together. The Wattle Avenue House talk is part of Melbourne Architecture Annual (MAA, 22-28 October 2012), the theme of which – community and architecture – coincides with the tenth anniversary of Federation Square, Melbourne's principal meeting place.
25 October
Treasury Theatre
East Melbourne
6–7:30 pm
Book early as places will fill quickly.