Forty-six Square Metres of Land Doesn't Normally Become a House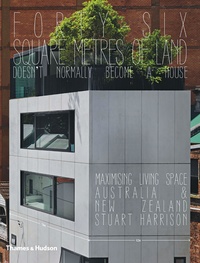 Bigger is not always better. Not when a small, empty car park in Surry Hills, Sydney can be transformed into a five-storey, 165-square-metre dwelling with a rooftop garden, anyway. Increasing urban sprawl has brought a focus to more space-efficient designs. Maximizing the available space is the emphasis of this book, which explores forty-five examples of space-challenged housing to reveal that such constraints can lead to innovation.
From Simon Anderson's two-in-one concrete house in Perth to Spaceagency's Leighton Beach project in north Fremantle, where seven reinvented terraces were built on a site just bigger than a quarter-acre block, this book shows that denser housing can be full of inspiring design opportunities.
Stuart Harrison, (Thames and Hudson, 2011), pp 272, rrp $70.00