At age 60, Brisbane architect Ed Haysom started another practice, this time in Ho Chi Minh City, Vietnam.
The bus driver has been honking his horn for the length of the block. It sounds like a demented cow and my concentration has been broken as the bus makes it way through the cluttered intersection of Hai Ba Trung and Dong Du.
My second floor window overlooks the street below and stepping outside is like stepping into a wet furnace. The afternoon storm that is brewing makes it very claustrophobic. The bar girls – porcelain dolls – are just setting up at the two "billiard" parlours opposite my window. They will be open for customers shortly but now they are now squatting in the doorways having an early dinner.
I have been in Ho Chi Minh City since February [2012] rebuilding our office after our director here went back to Australia. My journey here from Brisbane started two years ago [2010], when our office was called by a client who had moved to Ho Chi Minh City to run Vietnam's largest development company. The country was in a development surge, and consultants were scarce. We were awarded a small project (in Vietnamese terms) twelve luxury resort villas on the beachfront at Da Nang for wealthy Vietnamese owners. Da Nang is Vietnam's third largest city, halfway between Hanoi and Ho Chi Minh City.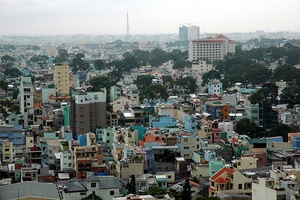 It was a case of being in the right place at the right time, as the Ocean Villas resort project was selling well. We won the design of a shopping village adjacent to the site, and the redocumentation of the condominiums that flanked the site. We developed some hotel masterplans and designed more resort villas in Hoi An.
Those were the boom years in Vietnam for international architectural firms of repute flying in to sell elaborate schemes to impressionable clients. These firms are now all departed, as are most of the clients. Those who remained and established a local presence are mostly reduced to a fraction of their former selves.
We opened an office in Vietnam because our major client advised us to. We started small in a serviced office. With help from Austrade's Commissioner in HCMC we made contacts with local accountants and lawyers, and in August 2011 we were granted an investment licence and I received my design licence. The exercise was painfully long and bureaucratic, with originals required of long forgotten documents, but we succeeded, and looked forward to a prosperous future as a newly multinational firm.
Then came the global downturn. One by one our Brisbane projects started to dry up, then work in Vietnam suddenly stopped and all the projects except the villas were put on hold. In addition, our general director returned to Australia after his wife fell pregnant – news which did not impress our major client. We approached several people in our Brisbane office to take up the post, receiving a no from each. I ended up being the lucky last.
This was an enormous dilemma. Our Brisbane office was experiencing a shortage of work, with developer and even defence and government work on hold. Should I stay and try to keep Brisbane alive or go to Vietnam with hopes that more work there would save the business?
It appeared that I had no choice and I left for Ho Chi Minh City in the new year at the end of the Tet holiday, with the beachfront villas being the only project to complete. I had six months to turn Vietnam and Brisbane around.
This was not the first time in my life that I have done this. In the late 1970s, I left a comfortable life in New Zealand to relocate to the United States and establish myself in Honolulu. I then started a practice in Brisbane where I knew no one, but have now lived for thirty years. Now, aged sixty, I find myself in Vietnam.
Fortunately, the move has been serendipitous. The market here is slowly recovering. Scorched by their losses, the international firms that left, created opportunities for architects familiar with local commercial processes and with international experience to win work.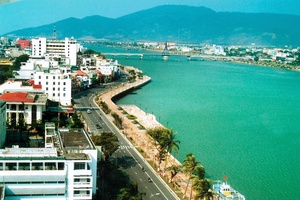 We picked up two office buildings: an eleven-storey tower in Phu My Hung, which is a new central business district to the south of Ho Chi Minh City; and a seventeen-storey tower in Da Nang. We are also working on more villas, a boutique hotel and a couple of masterplans. And yes, we are actually being paid. 
At the same time it is extraordinarily difficult. I don't speak Vietnamese. To describe the building and planning codes as arcane is understating it. While I have been attempting to learn about Vietnamese culture (mostly through books), it appears our clients prefer to adopt the symbols of other "successful" countries: large buildings, opulent houses and air-conditioned malls.
But we have work, and the next six months will be critical in establishing the office as a genuine design presence in what is a truly amazingly beautiful and mysterious country. The photographs with this postcard show our first completed building in this country: eight villas on the beach just south of Da Nang – a major port and one of the largest cities of Vietnam's South Central Coast. The site was once called China Beach – a truly beautiful spot. While the project was an enormous struggle, I am pleased with the result…And we have learned a lot from our mistakes!