Illustrated History of Landscape Design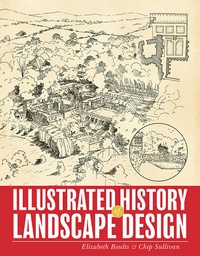 A designed landscape is a product of culture, and can give great insight into the values and ideals of its creator, owner and patron. Illustrated History of Landscape Design is a chronological collection of plans, drawings and case studies that, through the language of design, help to capture the "dynamic experience of space" and show the transformation of these values through the centuries.
Each section begins with a thought-provoking "idea-drawing" that illustrates the significant concepts of the period, followed by a timeline of events in world history, which provides a context from which to examine the landscapes.
Intriguing concepts presented include the Zen and samurai influences of the Middle Ages, fifteenth-century four-fold garden geometry in Asia, sixteenth-century Renaissance gardens, twentieth-century modernism, and the twenty-first century focus on sustainability.
This information-rich book shows how landscape history can offer food for the imagination of designers, and help them to position their work in relation to past and present circumstances. It takes the reader on a journey that is full of visual stimulation and educates and inspires along the way.
Elizabeth Boults and Chip Sullivan (Wiley, paperback, 2010) 272 PP $67.96.