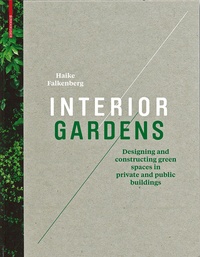 Don't be put off by the grey cardboard cover of this book. Inside, it is full of lush green gardens, planted walls and private courtyards; even the text is coloured green. The design is in fact a symbol of its subject matter – greenery on the inside – and shows how a well-designed "secret garden" can work to define the overall character of a house (or book).
Interior Gardens is divided into four main sections, covering typologies, general basic planning, materials and constructions, and features an appendix that includes a comprehensive list of plants. In Melbourne, the Morris House features a wall of native grasses and ferns in its inner courtyard, which can be seen from most rooms of the house, but not from outside. In New Zealand, the Foothills family home includes a roofed patio with a garden terrace. The greenhouse effect warms up the courtyard and the concrete floor stores heat, meaning it does not need to be switched on even in the colder months.
Interior gardens are becoming an increasingly popular way to liven up a dull space and create a private retreat. As the saying goes: It's what's on the inside that counts.
Haike Falkenberg (Birkhauser, Hardcover, 2011) 224 pp $150.