Keynote talk by lighting luminary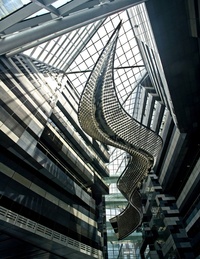 Portuguese lighting designer Beau McClellan, creator of the world's largest chandelier (Reflective Flow), heads the list of invited speakers at the 2012 International Industry Seminar Series. Talking about designing on an epic scale, McClellan joins six other leading industry practitioners who will speak at the two-day seminar.
Australian interior designer Thomas Hamel talks about integrating culture within an interior. Dutch trend forecaster Milou Ket shares her thoughts on future materials, products and trends emerging in bedding, bath and ceramics. Britain-based author Chris Lefteri, talks about the importance of considering materials from outset of a project. Designer and writer Darren Palmer, and editor of The Interiors Addict Jen Bishop discuss how to harness the power of public relations and social media to grow your design business. Decoration + Design's trend forecaster Genty Marshall will look at colour and how it will affect the way we live, interact and work.
The 2012 International Industry Seminar Series will be held at  the Melbourne Exhibition Centre 19–20 July, in conjunction with Furnitex and Decoration + Design. For the full program of seminars, and to book, go to the Furnitex or Decoration + Design website.