Power of the Poster, A Herman Miller Exhibition
An exhibition of archival and newly commissioned graphic art for the Herman Miller furniture company. Fortyfivedownstairs gallery, Melbourne, August 2012.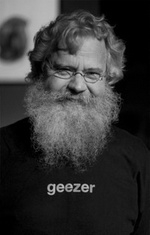 Steve Frykholm isn't in Kansas anymore. In fact, he couldn't be further from his native North American home town. The Herman Miller creative director of forty-two years is in Melbourne this week for Then X Ten – The Power of the Poster, A Herman Miller Exhibition. It's a collaboration between Frykholm and Fabio Ongarato Design, celebrating the place of graphic design in the Herman Miller story through twenty large-scale artworks – ten old, and ten new.
Frykholm curated the archival collection of ten box-framed posters, including three of his own works, while the Ongarato studio commissioned ten new works from contemporary artists referencing the Herman Miller range. These are unframed, and hung to stunning effect on black A-frame trusses through the middle of the gallery.
Considering the hundreds of posters Frykholm has designed or commissioned over the decades, his task in selecting just ten must have daunting. "Actually I whittled it down to fifteen and the Ongarato studio helped make the final cut. It would have impossible just to pick my favourites, so I looked for pieces that really marked milestones in the Herman Miller story. Not all of them are posters, I learnt while trawling through the archives. Some were actually print advertisements, but they were so striking, I had them made into posters especially."
Some of the pieces are triumphs of typography, for instance the 1963 Beware of Imitations poster by Charles and Ray Eames (who produced toys, film and photography as well as architecture and furniture). Even then it seems, counterfiet design was a concern. Other posters celebrate "the simplicity of a great idea, or humour" says Frykholm. An example is his 1989 Bill Stumpf Sketch of a portly posteria squished onto a too-tiny chair. "Bill Stumpf did that little sketch on a napkin over lunch, around the time he was working on the Aeron [chair]. I just reached over and grabbed the napkin: it was such a delightful image, I had to put it on a poster!"
Juxtaposing the old and new art gives the exhibition its vitality. Among the contemporary designs, Sanghon Kim's 2012 Eames Walnut Stools depicting a white spacesuited man with a walnut for a head standing in a forest of walnut stools like a deep sea diver. Mryzk & Moriceau's 2012 Eames Lounge and Ottoman shows bodies sandwiched between two lounges in the singular reference among the new works to black-and-white illustration. A deft curatorial touch are the visitor's posters designed as both a momento and a guide, leaving the exhibition posters on display in the gallery without the aid of explanatory text – a true test of their grit.   
So, what exactly is the "power of the poster" for Frykholm, a designer whose work hangs in The Cooper-Hewitt, the Museum of Modern Art and other esteemed collections? "Well, a poster has to arrest the attention. It has to convey a strong idea quickly and memorably. It demands a certain simplicity and ordering of the elements to make them really exciting. And I love a poster that surprises me," he says, as he waves at the Coconut Chair poster, one of the new commisisons byJonathan Zawada. "When I saw it, with coconut shells for eyes, making a face of the chair, I thought it was so clever. It made me smile ear to ear."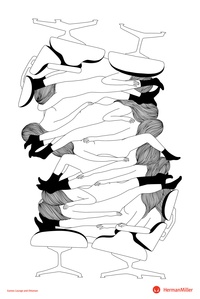 Then X Ten – The Power of the Poster, A Herman Miller Exhibition
14–25 August 2012
fortyfivedownstairs
45 Flinders Lane, Melbourne
Travelling through Asia Pacific 2012-2013
Exhibiting artists: from the archives
Charles and Ray Eames, Don Erwin, Steve Frykholm, Alexander Girard, Armin Hofman, John Massey, Linda Powell, George Tscherny.
New commissions
Eda Akaltun (Turkey); Emily Forgot (UK); Genevieve Gauckler (France); Sanghon Kim (Korea); Keiichi Tanaami (Japan); Mryzk & Morcieau (France); Felix Pfaffli (Switzerland); Craig and Karl (Australia); Kam Tang (Hong Kong); Jonathan Zawada (Australia).