Material palette: John Wardle Architects
JWA values natural materials, with colour and grain integral to the material itself, and which mellow gracefully over time. The potential of each material is explored: jointing systems are exaggerated, assemblage is often unconventional and cut ends are positioned to reveal inner texture. Here, the practice shares a few favourites.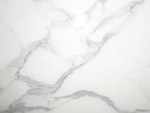 Calacatta marble
The practice prefers to use stones that have a clear figure in the veining rather than something more subdued.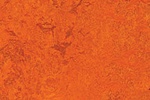 Marmoleum Decibel
This product is made from renewable materials and available in many colours. "Kyoto" is used at the Diamond Bay House.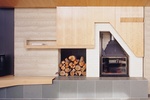 Radiante 846
This is an efficient slow-combustion fireplace. JWA often exposes the sculptural working mechanism, as seen at the Vineyard House.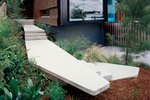 Insitu concrete
Concrete is often used as a hard landscaping material. In particular, off-white concrete complements soft landscaping, as seen at the City Hill House.
Native timber
JWA enjoys the contrast between untreated and highly finished timbers as well as the warmth that timber brings to both interiors and exteriors, as seen here at the Queenscliff House.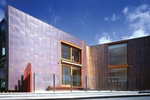 Zinc cladding
Metal claddings provide an elegant and maintenance-free facade that improves with age, as seen here at the City Hill House.