Jun Inoue: in-house graffiti
Jun Inoue has painted his American-inspired graffiti art at Paris fashion week, on skateboards and sneakers, and recently at Melbourne's new Trocadero brasserie. Cassie Hansen met the enigmatic artist on the eve of its unveiling.
When Jun Inoue swaggers into a room, you'd be forgiven for mistaking him for a rapper. Dressed in baggy cargo pants, boots and an oversized yellow hoodie, Jun doesn't rap, but he does dance … and paint. It's this dynamic combination that has brought this humble Japanese artist to Melbourne to create a mural for the new Trocadero brasserie, about to open in the much anticipated redeveloped Hamer Hall.
Jun has been creating since he was a boy. From an early age he made cars, trains and trucks from cardboard, and as a teenager he evolved his craft into graffiti. In high school, Jun was influenced by American youth culture, including hip-hop music, fashion and even words, and his graffiti reflected this. It wasn't until he studied art after high school that he began to identify with his Japanese roots and incorporate his culture into his art.
Jun is a key figure among current Tokyo street artists, and his work is a combination of two very different styles of art – shodo (traditional Japanese calligraphy) and raku-gaki (graffiti) – culminating in energetic, vivid and edgy pieces. By uniting the two styles, Jun has re-translated and revived traditional Japanese art to Westerners and the younger Japanese population.
But Jun's art is more than a combination of styles. It's also a song and dance – literally. Before beginning a new work, Jun limbers his body in preparation, puts a hip-hop track on and dances for at least five minutes in front of his blank canvas. He then runs towards the canvas and attacks it with spray cans, rollers, brushes and splatter. It's a theatrical performance that often takes place before an audience, and it's one that is intuitive and immediate.
"The music is important, the space is important, because that's all there is," he says. "I go on what I feel at that moment. I don't plan [the artwork] beforehand, I notice stuff." 
In Australia, particularly in Melbourne where street art is especially admired, Jun's work has been warmly welcomed, with a number of solo shows and live painting performances staged. One such performance, at Melbourne's Assin boutique, caught the eye of Frank Van Haandel, of The Van Haandel Group, creators of the new Trocadero brasserie.
"I saw a piece of Jun's at Assin that I instantly fell in love with it," Frank says. "There were three canvases on the wall separated by about two hundred millimetres and he hadn't only painted on the canvases, he'd painted on the wall between the canvases. He didn't restrict himself to the canvases; he bled over the sides and around [them]. I thought it was a really good fit for Trocadero."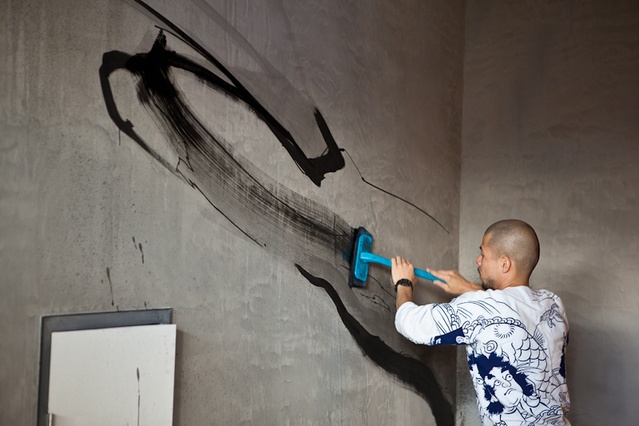 Jun came to Melbourne in late July to do the Trocadero mural, spending three days painting inside the shell of the restaurant while the fitout was under construction. The primarily black-and-white piece faces the front entry and wraps around a wall that leads to the restrooms. Mirrors around the walls reflect this calligraphic work into all corners of the restaurant for patrons to enjoy a glimpse. The artwork has also been carried through to the restaurant's stationery, where elements of Jun's splatters and strokes appear on the menus, business cards and uniforms.
While Trocadero is Jun's first piece for a restaurant outside of Japan, his work has already been used all over the world. In the US, it was used in Nike stores and on skateboards and sneakers. Most recently, it appeared in a collaborative range with Tokyo fashion designer Mihara Yasuhiro for Paris Fashion Week, where Jun also splattered the models before they walked the runway. 
With the Trocadero doors set to open in early August and Jun's spirited piece soon to be available for all to see, it's clear that this skilled street artist has found his groove.