Danish furniture designer Kasper Salto takes a "form follows function" approach to his craft, creating pieces of simple aesthetics, contoured for comfort.
Danish designer Kasper Salto has always been fascinated by chairs. With an architect father and textile designer mother, Kasper spent his childhood making things. Initially studying cabinetmaking, he graduated from the Danish Design School in 1994 and, after four years working for designer Rud Thygesen, he started his own studio.
His first commercial piece was a chair called Alfa. Made of timber, the chair was a natural progression from his cabinet-making background and was designed with shape in mind. Unfortunately the chair wasn't comfortable and didn't sell well, but this only spurred Kasper on: "I wanted to make a chair that could run off the manufacturer's floor in great quantities. I wanted to make money – not only to make a living, but also because it's interesting to see how you make things in great quantities."
A long-running association with Fritz Hansen has allowed Kasper to research and explore mass production over nearly ten years. "[Fritz Hansen] has the power, time, resources and money to put into the product, so we have more time as designers to refine our work."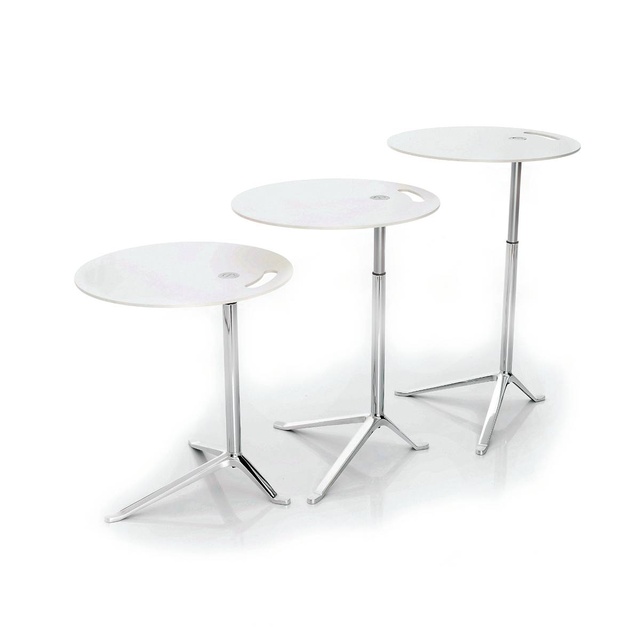 The results have been outstanding. The Ice chair and table – a lightweight, hard-wearing indoor-outdoor series – was followed by a small multipurpose, flexible table called Little Friend. And now Fritz Hansen has released the NAP chair.
Kasper designed NAP with functionality in mind first, with the shape forming as a result of a careful process. The first brief from Fritz Hansen was the price tag: two hundred Euros or less. They also wanted at least part-plastic construction. Kasper chose to use the same base as the existing Series 7 chairs to save on manufacturing, paired with a new plastic shell seat.
His own personal brief was to create a chair for use. Kasper noticed that sometimes due to the gap between the seat and the back, you fall out of the chair, so he created a rounded shape to "put yourself into." If you lean back, you won't slide out of the NAP chair, as ribs on the seat and back will "catch you." "NAP is exactly the opposite of my first chair, which was a chair made from an aesthetic point of view," he says.
Which is not to say that NAP is not beautiful - in fact the functional approach has resulted in a rounded, soft-scooping shape that is far more appealing than the cold geometry of ovals or rectangles.
Kasper has also been working with Thomas Sigsgaard on a series of lights. Nosy T lamp, manufactured by Lightyears, strips down the desk light to its most essential elements. The result is clean, simple and beautiful. Whether furniture or lighting, Kasper's work is one of the best examples of that ubiquitous phrase "form follows function" – and it's all the better for it.
kaspersalto.com
corporateculture.com.au