Lighting installations by Katelyn Aslett
Designer Katelyn Aslett creates bespoke lighting installations for commercial and residential spaces using hand-felted wool. 
"My work sits best in projects where people are looking for something unique, decadent and artistic," says the designer. Aslett is building a reputation among boutique hotels and spaces that require a touch of intimacy and character.
All of her pieces are handcrafted using hand-felted wool. "It's an organic and natural product that adds an ambience and texture to large spaces," explains Aslett. "The wool is a wonderful diffuser of sound."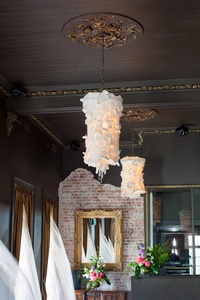 Each of Aslett's pieces has its own personality or fingerprint, with subtle intricacies and tonal changes adding to their appeal.
The lights can be made in various forms and shapes to fit into any innovative design space. The soft lamp structures Aslett creates hang from a custom-made aluminium frame that can be made to various specifications. An example of this is a recent commission where Aslett produced fourteen large chandeliers for a banqueting room. She also had to construct a fourteen-metre backlit bar made entirely of wool to complete the job.  The light shines through the fibres, creating a surprisingly warm result.
Aslett began her career as a textile artist but her work has grown to cover fashion, interiors, corporate fabric design and large installations. "To me it is all about colour and texture, whether I am applying my design aesthetic to textile design for fashion or for private interiors or larger commercial spaces," she explains. "I approach it in the same way. I love to create works that inspire and uplift and have a true artistic integrity that enhances life."
Katelyn Aslett will be showing her products at Designex in May.