Lighting and architecture
Antony Di Mase reflects on the potential of lighting and architecture, drawing on his recent experiences as a guest judge of the IES Lighting Design Awards.
Like never before, lighting design is playing an important role in the design of buildings, interiors and public spaces. No longer is it acceptable to spray halogen downlights across ceilings or light buildings as if it were Christmas. Clients expect more from lighting design and advances in new light sources, especially LED lights and energy-saving technology, can mean tailored lighting solutions for buildings. The choice in light suppliers, fixtures and light sources is growing and so is the need to create sustainable buildings in response to climate change. This means urgently finding new ways to reduce energy use while still achieving desirable lighting effects. Finally, section J6 of the Building Code of Australia requires specific expertise to ensure compliance without compromising design. All of these factors are making design and innovation in lighting a critical and integral part of most building projects.
My enthusiasm for lighting was sparked by the artistic work of Martin Firrell from the United Kingdom. His lighting installations cleverly re-engage parts of the city. Overlaying projected text and images onto public spaces, the installations quietly probe perceptions of war, sex, courage and religion. For me, it is the re-reading of the architecture of place that is compelling – suggesting contemporary attitudes to perennial human conditions while respecting the backdrop of the city. Light – impermanent and immaterial – is the perfect medium for a different reading of the present, one that sharply contrasts with the prescriptive institutions of the past.
For the past two years I have been a judge alongside four local lighting designers for the Lighting Design Awards run by the Victorian branch of the Illuminating Engineering Society (IES). The judging of these awards is rigorous – judges assess all lighting installations on site, with detailed presentations by their designers. The assessment criteria include environmental responses, fixture selection, use of technology and how the installation advances the art of lighting. Based on these criteria, selected entries are awarded either a commendation or an excellence award.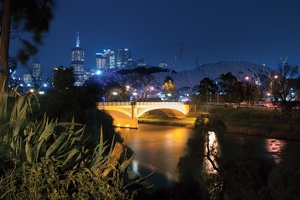 Last year, two projects received excellence awards and six projects received commendations. The projects that received excellence awards were Saffire Freycinet resort, Tasmania, lighting design by Point of View; and Melbourne Rectangular Stadium (now known as AAMI Park Stadium), lighting design by Electrolight.
These two projects are interesting for different reasons. In Circa Morris-Nunn Walker's Saffire Freycinet, a luxury complex in Tasmania, we see ambient lighting augment the refined interior design and enveloping architectural shell. Externally, light levels are kept to a minimum to preserve the natural darkness, with careful placement of lights to navigate pathways around the grounds. The entry axis is emphasized – connecting guests from the porte-cochere to the main view and descending stairway. Throughout this project there is nothing excessive in the number or position of lights. Care and restraint are apparent at every level and much of the lighting is intuitive rather than prescriptive. Apart from the entry, light levels are low so that the relationship of the building to its natural setting goes unhindered. There is no feature lighting, nor are architectural features highlighted – instead, there is a dappling of light of different intensities to create a hierarchy of spaces and to help guests navigate the resort.
The idea at Saffire Freycinet is for the lighting not to hinder a connection to the landscape, while still providing a sophisticated environment for the guest to enjoy. As in other commendable projects, there is a truly successful collaboration and healthy respect between client, architect, interior designer and lighting designer, based on shared interests and vision for the project. Each design professional worked to create a fine resort that makes the most of its pristine natural setting.
AAMI Park, a public sporting stadium near the heart of Melbourne, achieves a different outcome. Lighting at an urban scale with broad public appeal is at the heart of this project. The lighting nodes are located at the intersections of each hexagonal facade panel. This pattern of lights adheres to the geometry of the stadium outer skin. However, by designing a lighting system rather than prescribed installation, artists have the opportunity to create effects through programming patterns, colours and intensity. The lighting project takes on a life of its own.
In this project we see technology, integration and collaboration between Major Projects Victoria, Cox, Arup and Grocon giving rise to an idea that uses the host building as a reference, without the lighting project being defined by it. When presenting the scheme, Rachel Burke – theatre designer and lighting designer – said she was inspired by Zaha Hadid's theoretical position about how to add a new layer to the city. Different artists using computer modelling to create thematic lighting stories interpret this idea. For instance, during long periods where there is no sporting event, the stadium responds to its river setting and pre-urban history – a series of subtle patterns of different colours flow across the surface in reference to nature. There is a childish delight in this project, an echo of much loved illuminated signs like the Nylex Clock and the Skipping Girl, and a generosity of spirit in a system that permits the canvas to be given to artists to create their own original piece. There is also, however, a curatorial responsibility for the client to explore more fully the potential of this lighting project.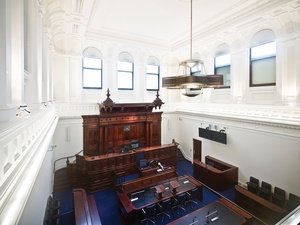 Other commendable projects at the IES awards include Manningham Cycling Bridge in Parkville by Webb Australia, which used 20 percent of its original power by changing to LED technology. The Wild Sea Seal Aquarium at Melbourne Zoo, designed by Troppo with lighting by Bluebottle, uses theatrical lighting and daylight filtering through the large pools of water around the perimeter. The iridescent blue from the large window looking into the seal enclosure combines magically with the deep green spots of underfloor lighting to create a feeling of walking on the seabed. The Mentone Harness Racing Track uses Active Reactor technology, a locally developed method of control that dims lighting levels between races and significantly reduces power consumption. And a special mention is due to Stephen Hennessey, who was acknowledged with Ben Lüder (formerly of Vision Design) on Vision's 2009 award-winning submission of Courts 11 and 12 of the Supreme Court of Victoria. Their lighting installation includes Hennessy's finely crafted fixture that interprets the nineteenth-century gasolier as a large, modern, sinuous, clover-shaped pendant.
Good lighting projects demonstrate collaboration between designers, an intelligent use of technology and an exploration of light and form. Reducing energy consumption is now more possible through different light sources and better systems of control. A more intuitive approach to lighting can create a more refined ambience. Lighting design is surpassing its supplementary role, and coming to play an important role in architectural expression – to paraphrase Le Corbusier, architecture is the play of form in light. My experience through the IES awards is that we are starting to see the potential of innovative lighting in architectural projects. I can't wait to see this year's instalment of lighting entries.