Living on cloud nine – Houses 86 out now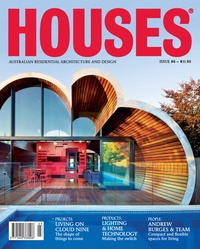 The perpetual advancement of digital technologies is continually changing the way in which architecture is produced and the building forms that result. Like the rest of the world, Australian architects are embracing this technology and experimenting with it on different scales, including in residential work. Paired with this digital form-making, some architects are giving their buildings a pleasing injection of fantasy and whimsy.  
Last issue, we featured Simon and Freda Thornton's quirky Milk Carton House in Melbourne (Houses 85), which is literally a house in the shape of a giant milk carton. Our cover of Houses 86 features another familiar form in an unfamiliar context – an approach that might be described as "pop architecture." Here, McBride Charles Ryan has taken the cartoon-like shape of a cloud and translated it to become the rear elevation of an inner-city home. 
The Cocoon House, Bellemo and Cat's first project, was also an exploration of form. Designed ten years ago, it has since been described as a cocoon, an egg, a zeppelin and even an upturned boat. Like the Cloud House and the Milk Carton House, the Cocoon House started with a fanciful idea, which was then brought to life.
A copper-clad snaking object attaches itself to an existing late-Federation home at Innovarchi's Balmain Archive. Although not a clearly recognizable object, this project is "completely captivating" and again demonstrates experimentation with form.
We all hope that architecture improves people's lives, both at work and at home, in terms of basic needs such as access to fresh air and natural light and also through the creation of interesting spaces to be enjoyed by those who inhabit them. It's refreshing to see architects having such fun with playful ideas and forms, and I'm sure the architects' joy in creating these spaces is shared by those who live in them. 
This issue also includes homes by Owen and Vokes, Architect Prineas, Nixon Tulloch Fortey Architecture, Mim Design, Sam Crawford Architects, Chris Elliott Architects, James Russell Architect, Fiona Winzar Architects and Allan Powell Architects. Expression of scale, compactness and flexible spaces are a focus in a profile of Andrew Burges Architecture and, finally, there is our first Queensland Revisited, Burrandool House by John Dalton, which reveals the architect "letting loose" in a move away from modernist tendencies.
Follow Houses on Twitter and like us on Facebook to keep up to date.

Read more of our house reviews here.

Purchase single issues or subscribe for six issues of Houses per year that come straight to you.

Houses is also now available in a digital edition for tablets, mobile devices and computers. You can purchase single issues and digital subscriptions online for instant delivery anywhere in the world.