Material palette: Andrew Maynard Architects
Materials, products and design elements used in the work of Andrew Maynard Architects.
Enzie spiral staircases
Well-detailed and constructed, these compact staircases, like the one at the Hill House, are easy to use.
enzie.com.au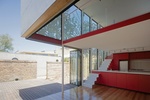 Skyrange steel-framed doors and windows
Seen here at the Tattoo House, the thin profile of steel framing is elegant and allows for more glazing.
skyrange.com.au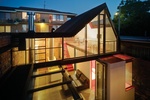 Viridian glazing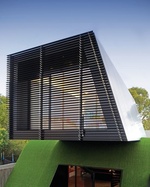 Viridian glass is available in large double-glazed sheets, allowing for flexibility in design as demonstrated by the rear elevation of the Vader House.
viridianglass.com
Spotted gum timber
Spotted gum is a durable and stable timber, locally sourced from Queensland and readily available. The exterior of the Mash House is clad in this material.
Aluminium louvres
Featured here on the Hill House, Shadefactor aluminium louvres are finely detailed with no frame around the outside.
shadefactor.com.au
Masson Mondo Blok lights
These aluminium lights are Australian designed and manufactured and available in a range of lamp types.
massonforlight.com.au
Read a profile of Andrew Maynard Architects here.