Melbourne is getting a pop-up market, purpose-built for sustainability by two young designers.
Steven Vidovic and Kristina Taranto won the design commission in July 2012 for the People's Market & Flea pop-up, planned to open in Stanley Street, Collingwood in November through to April 2013.
The brief in the national design competition came with fairly specific requirements about the use of sustainable materials and adaptable built elements for transforming the 1100 square-metre site (currently a car lot) into a multifunctional community space with a lifespan of around six months.
Must-haves from the brief included:
•  20-foot shipping containers selling street food, hawker style
•  20-foot shipping container as a bar
• Two COMA 20-foot containers
• Up to four retail spaces
• Greenery throughout the site
• Seating for up to 200 people
• Public amenities and sufficient space for a Saturday pop‐up market of up to 30 stalls
• Structures should be mobile/portable as the site is temporary
• Weather shelters over key areas.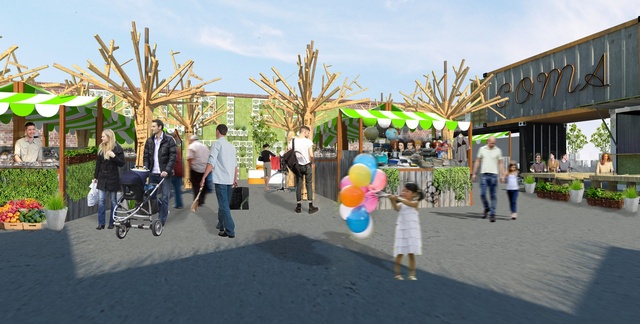 Steven is a recent Masters graduate, and Kristina is in her final Masters year (Melbourne University). "We're pretty excited – it's the first competition we entered and won together," says Kristina. "We were interested in it for the sustainability aspects of the brief and the chance to design for a young market. And the impermanence of the structures is an interesting design/build challenge."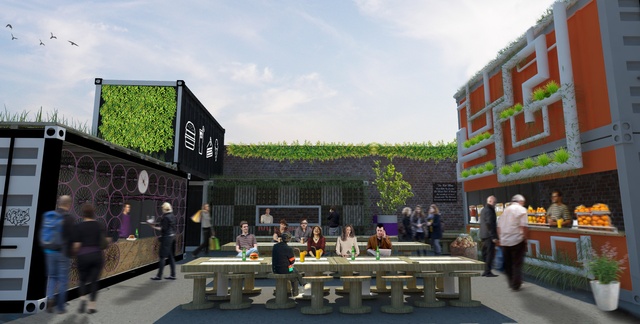 The overarching theme for the market is the Recycled Garden, a living garden intertwined with recycled objects, snaking its way through the site. Green roofs, vertical gardens and rain-water harvesting will be part of the sustainable framework. Planning will draw people into the market by positioning the COMA containers at the open street front to serve as 24-hour display windows. Other events that planned for the site that the design takes into account are the Saturday pop-up market, live bands and open-air cinema.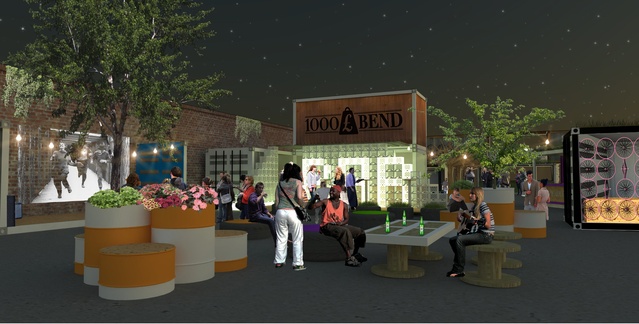 "At the moment we're busy sourcing materials from salvage suppliers and construction sites. There are a lot of components to design and different types of people to cater for. We want to make it family friendly for the daytime crowd and a bit younger at night with things like lighting effects. We're building a wall of recycled PET bottles at the back of the bar, which we'll light for ambience."
An installation called the People's Garden will offer "a garden experience without the use of plants", elevated off the main areas, and connected to the bar, the People's Garden has sculptural "trees" made from recycled timber; people are encouraged to write or carve on the trees and leave their mark.
A community vegetable garden will be planted around the perimeter of the space. It is after all, the People's Market.