Moshe Safdie's Melbourne talk
The architect behind Singapore's Marina Bay Sands Resort, host to WAF 2012, unveils his vision for Monash University's new school of music.
For the first time since his commission was announced in September 2012, international architect Moshe Safdie will unveil his vision for the Monash University Sir Zelman Cowen School of Music in a free public talk at Melbourne's Hamer Hall on 23 October.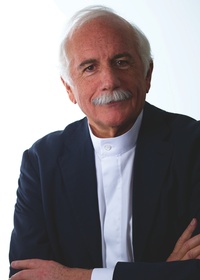 The talk is a rare opportunity to hear first-hand the celebrated architect's vision for the much-anticipated conservatorium, which will bring a new concert hall, jazz club and recording studio, as well as teaching and practice rooms to the university's Clayton campus.
This will be the first Southern Hemisphere building for Safdie, who began his career working with Louis Kahn in the mid twentieth century, and today (with offices in Boston, Toronto and Jerusalem), works on major civic and private commissions in Europe, China, North America and the Middle East.
His talk is expected to touch on his approach of "humanising the mega-scaled monuments" he has completed over his long career, including his recently completed Marina Bay Sands in Singapore, the base for the 2012 World Architecture Festival, his Habitat (1967) vertical village in Toronto and Crystal Bridges Museum of Contemporary Art in Arkansas. 
To coincide with Safdie's commission to design its conservatorium, Monash – in September 2012 – renamed the school after Australia's nineteenth Governor-General (1979–1982) Sir Zelman Cowen, who died in December 2011. Cowen was instrumental in the founding of Monash.
The talk is free to the public, but registration is essential. Details are available from Arts Centre Melbourne.