Penny Craswell explores the appeal of the handmade and how modern craft continues to innovate in a world of mass production.
Since the Industrial Revolution, and more so in the digital age, our lives have been immeasurably improved by industrial manufacturing. But there is still something special about a handmade object. In "The Work of Art in the Age of Mechanical Reproduction," Walter Benjamin asserts that an artwork that has been technically reproduced does not have the same authenticity and authority as its original. "The whole sphere of authenticity is outside technical—and, of course, not only technical—reproducibility."
Perhaps that is why, despite the prominence of industrial objects, craft never really died. There were always those like William Morris who saw the value of the handmade – his Arts and Crafts movement was a direct reaction to the Industrial Revolution. In "The Lesser Arts of Life," Morris wrote: "If our houses, our clothes, our household furniture and utensils are not works of art, they are either wretched make-shifts, or what is worse, degrading shams of better things. Furthermore, if any of these things make any claim to be considered works of art, they must show obvious traces of the hand of man guided directly by his brain, without more interposition of machines than is absolutely necessary to the nature of the work done."1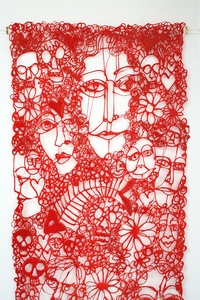 While this is an extreme view, there is no doubt that the beauty of craft has survived to the present day. There have been shifts, with traditional crafts such as metal beating, woodcarving and lacemaking dying out. But a new generation of craft practitioners are innovating, often using old materials or processes in new ways. Others make use of new materials or technologies, or create new materials from waste.
At the current exhibition The Power of Making at the V&A in London, the range of handmade objects is diverse. One of the exhibits is a G-string by Polish lacemakers from Koniakow who, when sales of their traditional lace began to falter, switched to making sexy lingerie. Nearby at the Origin Contemporary Craft exhibit, held during the recent London Design Festival, Clare Knox-Bentham's work used cutting edge technology to create hand "drawn" wall pieces made by plastic extrusion.
In Australia, Sarah K and Liane Rossler from Supercyclers are creating objects from waste – in this case old plastic bags. Made by gently heating the bags over objects with a heat gun, Plastic Fantastic is a collection of small vessels that are delicate, beautiful, and surprisingly waterproof. Liane Rossler, famous as co-founder of Dinosaur Designs, has also recently become engaged in the world of traditional weaving from the Pacific Islands. With Heidi Dokulil, she has set up Happy Talk – with the Happy Talk house in Hyde Park built as a place for weaving workshops during Art & About Sydney.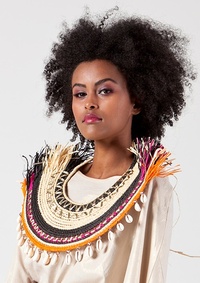 One of the workshop leaders at Happy Talk is Maryann Talia Pau , whose work references Pacific Island cultures and ideologies. She brings traditional materials and weaving techniques from Samoa and across the Pacific into the world of contemporary fashion and clothing design, with work in the recent Fringe Furniture and at Design:Made:Trade during State of Design. She says: "As a teenager, the pieces I began to make for myself and the materials I was drawn to reflected a love for Pacific design and style. This, in turn, led to a desire to learn more about my Pacific identity. I wanted to celebrate being Samoan and share it; to normalize it as well."
Also using a traditional technique re-conceived for a contemporary object, Innovo are a team of four designers based in China. Their Piao chair, which was shown at Salone Satellite in Milan this year, is made by gluing layers of paper together – a technique traditionally used to create paper umbrellas in China. For Paio, the layers were added until the chair was strong enough to sit on, with the natural fibres of the paper creating a wonderful texture.
Also using an age-old material, Christien Meindertsma's One Sheep Sweater takes a process that is still in use today on a large scale (making a woolen sweater) and makes it once again personal and individual. There is only one flock of Merino sheep in the Netherlands, owned by Mathee Kamp. Working closely with Kamp, Mienderstma's project sees the wool of each sheep kept separately and then knitted into one article of clothing. The sweater even comes with its own passport and a picture of the sheep that gave the wool.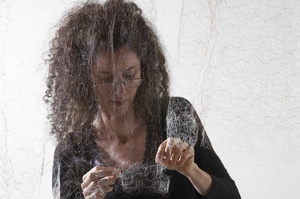 Returning again to Australia, and using an even more elemental material, Helen Pynor's work for the current Love Lace exhibition at the Powerhouse Museum is created with human hair. Untitled (uterus urinary) is a fragile three-dimensional object modeled on our internal organs, made beautiful, rather than ugly or disgusting, as we usually perceive them to be.
The world of craft always benefits during times of financial crisis. For makers, the crisis means shifting manufacturing opportunities, and companies scared to take a risk. This can give those who are able to handmake their objects an advantage. And for consumers who are cash-strapped, buying local and "making do" is part of the new trend of frugal living – which can only be a good thing for craft.
William Morris, "The Lesser Arts of Life," in Architecture, Industry & Wealth: Collected Papers (New York: Longmans, Green, and Co., 1902), 37–79.