Material palette: Smart Design Studio
Smart Design Studio's attention to detail and craftsmanship is paired with elegant functionality. The materials and products that this practice chooses reflect this approach. Here, the practice shares some favourites.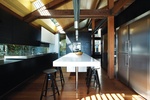 Solid wood
The tactile quality of a solid, authentic material is appealing to the practice and is used here at the Goymour kitchen (Kitchens and Bathrooms, Issue 06).

Miele H 5961 B oven
These modern, simple and reliable appliances are a favourite of the practice.

Calacatta marble
This product has a textured finish that evokes a sense of luxury, as seen here in the ensuite of the Douglass Stanborough apartment.


Limestone tiles
This product is used for a natural and laid-back finish that is warm in colour.
Vental louvres
Louvres are often used for solar control and privacy as seen here at Pacific Sixteen. Furthermore, the louvres can enhance the ambience of a space.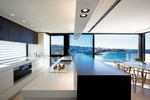 Corian surfaces
The practice likes to specify this material for its durable qualities and appearance of a seamless surface as seen here in one of the Pacific Sixteen apartments.

Read a profile of Smart Design Studio here.