Material palette: Riddel Architecture
Whether working with a historically significant house or designing something completely new, Riddel Architecture has a series of favourite materials and finishes that help define its work.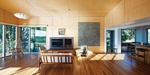 Hoop pine plywood
The honey-gold appearance and knot-free quality of this hoop pine plywood, seen here in Maleny House, appeal to the practice.
ringwoodandply.com.au
sharpplywood.com.au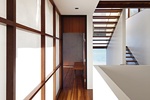 Cool-lite GC sheeting
This product, seen here in Cois Fharraige, is often used on external cladding as it provides a weatherproof skin.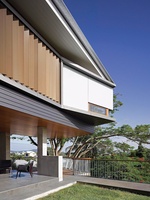 Louvretec louvres
These louvres allow for operable walls that can be closed flush or fully opened to let in light and views, as seen here at Kinauld.
Resene 'Bite Me' paint
This dramatic yellow is a signature colour for Riddel Architecture.
Portland cement render
The practice likes to use this "honest" material for low-maintenance, natural-looking finishes, as seen here in Cois Fharraige.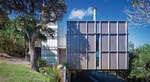 Copper sheeting
This material, seen here on Aquila House, ages beautifully.
Read a profile on Riddel Architecture here.