Jeremy Unger, Edmund Spencer, Victoria Judge and William Smart of Smart Design Studio
Interested in exploring ways to enhance people's lives through design, Smart Design Studio has a growing suite of residential projects that are luxurious and beautiful.
After working in the UK and Europe on large commercial projects with Norman Foster, then on Sydney's Olympic Park Railway Station, William Smart felt an undeniable desire to start his own practice. Founded in 1997, Smart Design Studio has built a reputation as an award-winning multidisciplinary practice. The studio boasts an impressive suite of work across residential interiors, alterations and additions, heritage and multiresidential complexes, as well as commercial projects in tourism, the arts and media. These include White Rabbit Gallery, Channel 7's headquarters and the APRA/AMCOS offices.
William set the agenda with a whole-of-design approach to all projects. He acts as the hub for a team of architects and interior specialists, who are woven into collaborative teams on a project-by-project basis. In each case, a simple idea or a bold form drives the concept.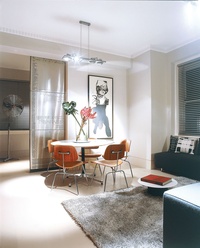 One of William's first residential projects, a small, low-budget renovation in the heart of Kings Cross, brings art and architecture together and sets a benchmark for excellence and innovation – two tenets that underpin all of the projects in Smart Design Studio's portfolio. Known as the Smart Apartment, it incorporates a sliding "art wall" by Tim Richardson and the insertion of a single joinery element into the space to transform an awkward studio into a luxurious one-bedroom pied-à-terre. Crafted in high-gloss lacquer, this red component offers generous storage as well as the precision functionality of a Swiss Army knife, concealing the television, stereo, laundry, utilities, fridge, dishwasher and even the kitchen sink. Such a bold, modern inclusion surprisingly serves to integrate spaces rather than to separate them, and it allowed William to return the original features of this deco apartment to their former period elegance, complete with architraves and cornices. A degree of flexibility becomes apparent in the custom-made bed, which doubles as a daybed and extends the living/entertaining area. Natural light from all sides and the clear, vibrant design couple to create the impression of a space far larger than a mere forty square metres.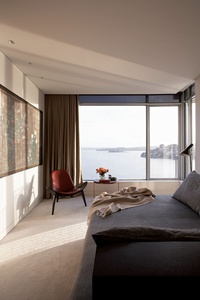 Smart Design's bento box element evolves into full modularity in other residential projects such as the Central Park West development, in which each apartment interior is crafted around a central multifunction pod standing freely within the apartment shell. With an interior palette that references performance sports cars and motor yachts, the refined panelling and Duco gloss finishes add a level of high-octane excitement to luxury living.
For the Douglass Stanborough Residence in Darling Point, Smart Design Studio takes its expertise in utilitarian elegance into "first-class" living. Breathtaking one-hundred-and-eighty-degree views of Sydney Harbour can be enjoyed from each room of the apartment. From leather wall panels and shot-silk doors to bespoke furniture, specially commissioned artworks and a marble-wrapped bathroom, every aspect of this renovation is about impeccable, understated luxury. Internal replanning serves to reorient the zones of the home toward the spectacular views, and the use of bold combinations of colour and texture on an ivory and limestone foundation palette enhances the sense of spaciousness across the two-hundred-square-metre footprint.
Sensitivity to the characteristics of each original structure is evident throughout the alterations and additions portfolio of Smart Design Studio. Each project pushes the contemporary envelope and establishes an exquisite dialogue between new and old. Two homes exemplify this exchange: Selwyn Residence and Mandalong House.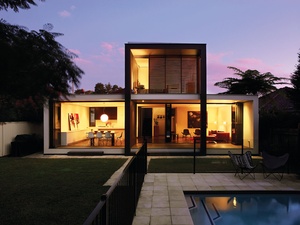 The renovation of the Selwyn Residence restores the characteristics of the Californian bungalow at the front of the site and grafts an ultra-modern two-storey addition to the rear. This better engages the house with the site and establishes a distinct threshold between original and contemporary zones. The addition is arranged as a series of rectilinear interlocking frames, comprising a top-level master bedroom, study and ensuite above a broad kitchen and generous living area that open entirely to the garden.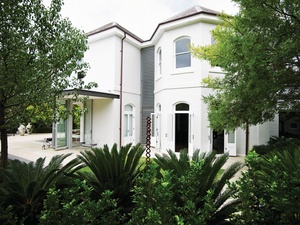 Openness, interconnected function and clean, crisp materials are common to both Selwyn and Mandalong – a handsome Victorian home in Mosman. Extensive refurbishment of this two-storey 1885 family residence celebrates its heritage and entirely reconfigures its circulation to create a continuous flow between inside and outside. William replaced sash windows with French doors in the original home, and created an ultra-modern wing framed with 3.1-metre bifold doors to continue the stately, confident proportions throughout the old and new zones. A sports club-style locker room for showering and dressing includes full-height joinery elements as ventilated wardrobes. Introducing modern living spaces enlightened by environmentally sustainable principles – grey water, louvres, natural lighting and passive heating and cooling – breathes fresh life into this grande old dame on the hill.
William and his team will often start projects with the site plan and reference to their favourite architect, then work through it until the solution is their own. "It is critical that we start off with a simple diagram. I do initial planning at 1:500 or 1:200, which are tiny scales, so all I can see is the big picture. It's never about the shape of the building but always about how the plan works with the site," says William.
Developing the program for the multiresidential complex Pacific Sixteen, the architects and interior designers discussed their favourite buildings, often masterminded by the likes of Mies van der Rohe. In each project, strong modern lines and geometric forms create an overall quality that is robust in character, elegantly proportioned and perceivable in each space as well as the overall building.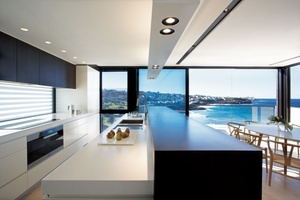 Pacific Sixteen gave the practice a chance to flex its design muscle and create a private and supremely liveable apartment building that celebrates views across Bronte's beachfront. A strong, simple diagram was developed to describe the form-within-form structure that echoes Smart Design Studio's awarded office premises at 632 Bourke Street, Surry Hills. A large grey block anchors the building's visual foundation, while a series of three-storey-high blade walls splay towards the north-east, allowing each bedroom and living area to maximize water gesture. In this way the volume and siting actually give back views to neighbouring properties.
With Smart Design Studio there is always an element of surprise and delight. Lavish attention to detail and craftsmanship find their complement in robust structural expression and elegant functionality, while connection with the surrounding landscape is amplified by embracing the environmental opportunities of the site.
Now and in the future, Smart Design Studio is focused on building great projects and proposing new narrative approaches to living by exploring ways to enhance people's lives through design. William says, "I really don't think there's any point if it's not beautiful. Every project has to have its poetry." 
Read about Smart Design Studio's favourite materials and products here.