The Casual Cyclist's Guide: Melbourne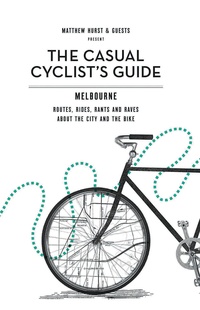 This past summer, I had one mission: to buy a bike and ride it. I did just that … and so did a large chunk of my fellow Melburnians. Each day I seemed to spy more and more riders on their steeds – an array of Omafiets, flash fixies and BMXs. But these cyclists were different from the lycra brigade. They were a new breed of cyclist – less competitive and more casual and practical in their commute. And author Matthew Hurst wrote a book exactly for this breed.
The Casual Cyclist's Guide: Melbourne is described as an "ode and aid" to the possibilities cycling can bring. The book – lightweight and small enough to fit in your pannier – is an entertaining read filled with useful information including the history of cycling, road rules and maintenance tips. But the real fun is found in the "Routes and Rides" chapter, detailing Melbourne's scenic and easy rides. There's a route stopping at art galleries and museums, a journey through local architecture, and even a tipsy track via Melbourne's best (and by that I mean trashiest) nightclubs. The book is dotted with personal anecdotes from a cycling virgin, a bike messenger and even eight architects, who discuss their favourite shared spaces.
Matthew Hurst, Hardie Grant Books, paperback, 2011, 160 pages. RRP $19.95.