Viva Venezia: Matthew Pullinger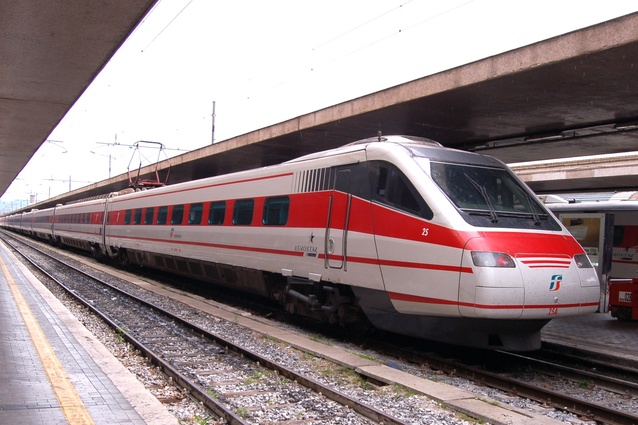 This postcard is being written while I take the fast train from Florence to Rome, three days after leaving Venice. These past few days were intended to give moment for reflection, to allow Venice and the Architecture Biennale to be considered and absorbed – a fairly daunting prospect.
Instead, it is the Italian rail network which fascinates me today. Moving at a speed of 250 kmh in a leather-appointed cabin, I am directly connecting with you via on-board wireless Internet.
I marvel at the 60 Euro price of my ticket, but more so the rolling Tuscan landscape and nodding Italian businessmen. One hour and 15 minutes from Florence to Rome. One hour and thirty minutes from hotel door to hotel door. And this, after a similar journey from Venice to Florence just the other day.
There is simply no way air travel can compete. It's not as if Italian rail is held in the same regard as the Swiss or German masters of efficiency, but it is difficult to fault the Italians for service, cleanliness and timeliness. My ticket reassuringly informs me that I have personally contributed 75 percent less CO2 than our airborne cousins, and about half that of motorists travelling the same route.
To Venice and the Biennale. It's been twenty-one years since I last visited this remarkable city. Poised so delicately on the lagoon, Venice – more than any other city – demonstrates the complex interplay between human intervention and a natural system. 
My struggle with words is a confronting one, for it has become clear that it isn't possible to convey anything new at all about splendid Venice. And, it turns out after some research, that even the idea 'there's nothing new to be said of Venice', can be attributed to another writer.
Its "elegant decay" (another borrowing), makes Venice the world's largest museum. It has been imprecisely preserved, in many cases adapted, renovated or restored, for hundreds of years. Today it exists almost entirely for tourism and seemingly little else. 
As a tourist destination it has serious pull, a level of authenticity that most can't deliver. And so, each day 50,000 people, like me, join around 50,000 residents (if they can truly lay claim to the title, I suspect not) and tramp around bristling with camera gear and blue striped shirts (unlike me).
Seems an odd place then to convene on the matter of contemporary architecture – in a museum. Still, in the space that remains, I have resolved to not try and write anything particularly original or insightful. 
The Giardini was sunny and crowded with beaming Australians. We are such optimistic and intrepid travellers. The national pavilions were thoughtful and engaging. From serious – Japan's reflection on the recent earthquakes, curated by Toyo Ito. To very serious: Israel's heavily guarded pavilion with its wide streak of entrepreneurism. To subtle: the combined Finland, Norway and Sweden pavilion with its implausibly fine concrete roof structure. To blunt: the German pavilion's exhibition of austere photographs of recycled buildings.
The only moments of levity I observed anywhere came from the Australian contingent. Richard Goodwin dodging the gondolier service and instead arriving through the pavilion window by flying fox, and a series of foosball games provided by Archrival. Reminding me again of the Australian character's leaning towards irreverence.
At the Arsenale – set aside mainly for individual architects – there were some retrospective exhibitions of architects and their work. I didn't particularly want to warm to Zaha Hadid or Norman Foster, but in my estimation, they towered above others. Confident, self assured, very polished. And realized through collaboration.
Reflecting on all this archi-overload, the Biennale, like Venice itself, leads me to suspect that there really is no such thing as a new idea. Architects, like magpies, borrow from their surroundings and rework what they find into their projects. This does no disservice to our talent for creativity and complex problem solving. Instead, it is the very thing that fires architects up, gets us out of bed each day. No other group in society today gains the same training or set of skills or has the opportunity to apply these skills in almost any context. Of course building will be at the heart of architecture, but Formations reminds us that there are many other ways to practice architecture today.