Trocadero brings riverside dining to Melbourne's arts precinct in an elegant brasserie and bar under Hamer Hall with killer views of the city.
With a resume that includes Stokehouse, Comme, Cutler & Co and Mr Tulk, Frank Van Haandel of the Van Haandel Group needs no introduction. Trocadero, the latest venture by the Van Haandel Group and Anthony Musarra in association with Allan Powell Architects brings Hamer Hall down to the Yarra River with a fresh spin on the classic European brasserie. 
For Trocadero, Van Haandel wanted to impress a youthful space in the conservative surroundings of the Arts Centre precinct, a challenge that he'd previously succeeded at with Mr Tulk, at the State Library of Victoria. "For Mr Tulk, we managed to bring a lot of people to the library that hadn't been there before. We wanted to do the same thing here," says Van Haandel. "While we want to cater for arts patrons, it's also our intention to have something that's a bit different – a destination place for people that aren't necessarily here for the arts."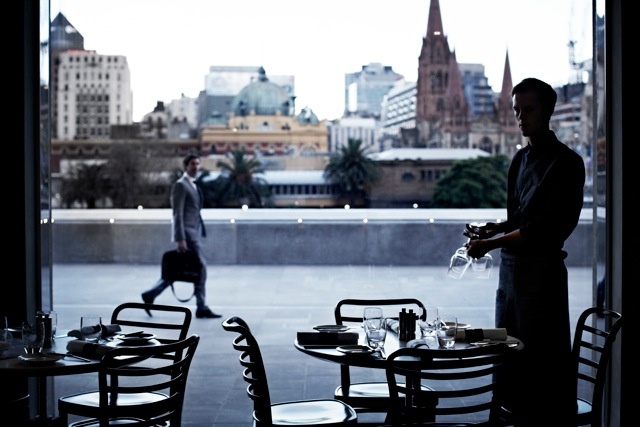 And this is quite the destination. Located along a previously inhospitable riverside stretch below Hamer Hall, Trocadero has an eighty-metre frontage along the Yarra with views to Federation Square, Princes Bridge and St Paul's Cathedral. 
Inside, the restaurant has been given a bold, monochromatic palette, punctuated with glossy flourishes and edgy artwork. Pre- and post-theatre patrons are ushered from the Hamer Hall foyer through a side entrance into Trocadero's sumptuous gold bar – a Van Haandel signature (think, Stokehouse). Behind the bar stands a glacial looking ice bucket 1.2-metres high by the sculptor Peter Cole. This multifaceted, mirrored bucket is a partnered by wall lights – also designed by Cole - at either end of the bar.
Enter the one hundred-seat brasserie from the outdoor terrace, to be treated to an energetic mural that sets the tone for the entire space. Van Haandel commissioned Japanese street artist Jun Inoue to create this mural, and brought him to Melbourne recently to paint it directly on to the concrete wall. It took the artist three days to complete. Inoue's work combines aesthetics of Japanese calligraphy with western street graffiti. His piece for Trocadero, primarily black-and-white with flashes of red, wraps around a front-facing and side wall. The artwork has been carried through to the restaurant's stationery, where elements of Inoue's splatters and brush strokes appear on the menus, business cards and staff uniforms, and one column in the kitchen has also been given the Inoue treatment, for the benefit of chefs hard at work.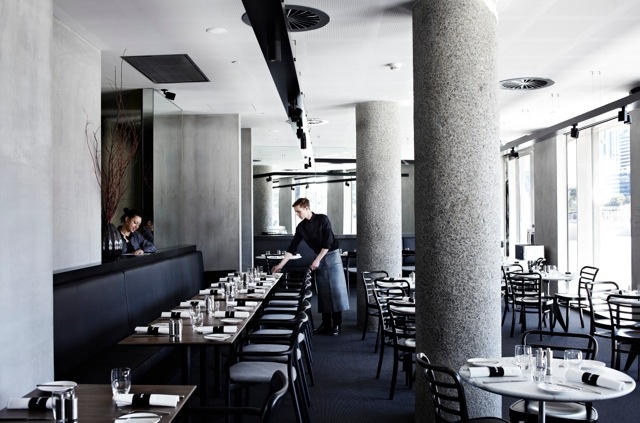 The dining room is a sophisticated setting that features Ross Didier marble tabletops on Tom Dixon bases, and chairs by Mattiazi and Thonet. Floor-to-ceiling windows with mirrored frames allow the view to be seamlessly enjoyed from the dining room and bar. Exposed concrete walls are enriched with upholstered banquette seating and carpet. The outdoor terrace will soon include an eighty-metre trellis planted with olive trees.
The name Trocadero is a reference to the popular dance hall in this precinct in the 1920s. "We loved the name because it means a bit of fun," says Van Haandel. "This place has always been an entertainment area and we wanted to continue that association with something that's not too serious." It might not be too serious, but to diners looking out to that million-dollar view, it's seriously cool.