For the rebranding of a Melbourne store, Hassell and Fabio Ongarato Design (FOD) toyed with Tetris geometries, building a playful language of design.
The new fitout for Urban Attitude, by the Hassell studio in Melbourne, grew out of a singular gem from the client: "We want a party". Urban Attitude, which started out in Acland Street in St Kilda, has been through different incarnations, including a widely-published gallery-like fitout some years ago by Tom Kovac. You might remember its sinuous curving and sloping construction that gave store patrons vertigo.
Urban Attitude has moved on, and as part of a wider rebranding being carried out by Fabio Ongarato Design (FOD), a new flagship store was sought to embody this somewhat cheeky retail company's newfound spirit. For the team at Hassell, the rebranding process had unearthed much of the corporate introspections ("who are we really?") and this formed a solid foundation to build upon.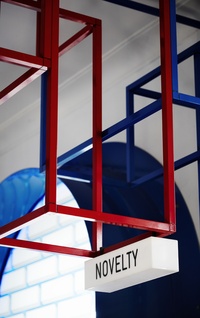 Of course, interpreting what a party looks like in three dimensions is a major challenge, but in collaboration, Hassell and FOD came up with the motif of the Tetris block, which informs much of the new design.
The Tetris block may be conceptually, and literally, playful, but it is also a practical response to the merchandising needs of a retail outlet that displays and trades in a highly diverse inventory. Things that sit on plinths (solid blocks), things that hang (from open frames), and things that sit within glass cases are all accommodated in the various incarnations of the selected motif.
Design sessions with the client were apparently conducted primarily in Sketchup, with the space and forms within it manipulated and "toyed with" in real time in an amusing imitation of Tetris gameplay. In some indefinable way, the interior feels like a render – you can imagine it quite easily in the design visualizations, and its effect as a three-dimensional reality is almost disconcerting. Throughout the interior, a black and white backdrop sets off the toy-block-coloured frames and solids well, and the merchandise sits comfortably in the space, completing the aesthetic tableau.
Despite the "virtual" flavour of the interior, outside, the building remains in sharp contrast, comprising the former Victorian-era Fitzroy post office, a grand building on a landmark site at the corner of Brunswick and Johnston Streets. Bridging the gulf between these two worlds – the historic shell and the "virtualized" interior – is "the Portal", an illuminated frame treatment around the entry door. This clean insertion into the existing opening successfully brings the colourful qualities of the interior out to the street.
The typographical finesse of the Fabio Ongarato rebranding combined with the playful but practical resolution of the interior have resulted in a comprehensive retail-led fitout, one in which the actual merchandise is not forgotten, but intrinsic to the brand experience. Is the result a party? You be the judge.