In August 2012, the Federation Square carpark rooftop began to sprout a vegetable patch. It's a 12-month community project by Melbourne's Little Vegie Patch Co that aims to be educational, sustainable and commercially viable.
In addition to an initiative which will see ten apiaries installed on top of Federation Square in Melbourne (see A toast to the urban honeybee), the square's carpark rooftop is set to be transformed into a series of grow-your-own style vegetable allotments. Federation Square Pop Up Patch will see 176 recycled apple crates become rent-a-gardens for a twelve-month period starting this August.
Far from the quarter-acre dream of suburban self-sufficiency, in the city, space is at a premium. Many groups and individuals simply don't have the space or resources to be able to cultivate a small garden, let alone the skills required to keep a small bunch of herbs from wilting shamefully on even the sunniest of kitchen window sills. Enter the Pop Up Patch. By pooling resources and providing educational support, Melbourne-based Little Veggie Patch Co are joining with Fed Square to offer inner-city Melbournites the opportunity to reconnect with the process of growing food.
Kate Brennan, the CEO of Federation Square elaborates, "the Pop Up Patch will operate seven days a week to provide information onsite that will be complemented by an online program. It will become one of Melbourne's most accessible veggie patches with over 9 million visitors to Federation Square annually." While urban allotment programs are none too out of the ordinary in many cities around the world, the Pop Up Patch will be unique in both its exposure to a high volume of foot-traffic, and as a model for a sustainable business.
With the exposure of the project to both Melb-urbanites and the high volumes of tourists that visit Federation Square, the Pop Up Patch is poised to serve as both a functioning veggie plot and an educational installation to spark participation in similar projects.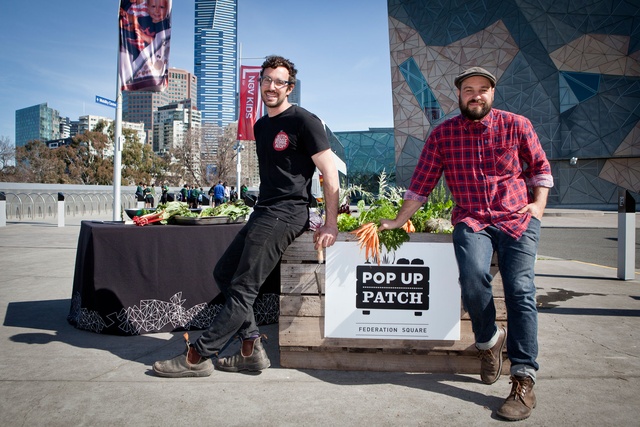 Operating on the commercial but refreshing edict that "nothing is sustainable unless it makes money," Fabian of the Little Vege Patch Co. makes a useful distinction between the more typical community garden which rely more on funding by not-for-profit groups or the goodwill of locals for their success (and is often limited in terms of who can access the plots). Far from being critical of such schemes, however, the Pop Up Patch extends the scope of such practices to businesses and urbanites looking for a well-structured and supported system. For a twelve-month subscription fee of $1,300, Pop Up Patch-workers can also expect expert gardening advice and training from the Little Veggie Patch Co. as well as seasonal seed packs, a copy of the Little Vegie Patch Co. gardening book, access to the Pop Up Patch tool shed, and exclusive online content.
The perception of limitless space in Australia is increasingly being challenged by expanding population (particulalrly in the urban centres) and subsequent development. With urban plots rapidly diminishing and space at a premium, the Federation Square Pop-Up-Patch offers an educational opportunity to re-establish contact with the processes of agriculture and natural life cycles of food production that many take for granted. The self-sufficiency, comeraderie, and reduction in the use of resources offered by the Pop Up Patch may just encourage a rethink about the city as a site of consumption, to one of production. The concentrated efforts of allotment schemes, in this regard, could be a catalyst for greater change to the way we live than simply an incentive to decrease our grocery bills.
Follow the project at popuppatch.com.