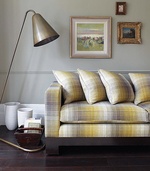 Osborne & Little: Athlone collection
This collection of checks, gingham, tartan and stripes offers a range of fabric types. Seen here is the Wexford F6167-02 fabric from this collection.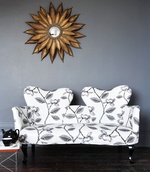 Jocelyn Warner fabric collection
To complement her wallpaper designs, Jocelyn Warner has introduced a new range of nature-inspired fabric designs. Seen here is the Flora fabric.
Dino Stripe range
This popular range from Woven Image is made from high-performance environmental upholstery and is available in a variety of swatches.
Trinidad
Bright and cheerful, the Trinidad collection combines colourful stripes with plain fabric. The ability to mix-and-match within this collection is endless.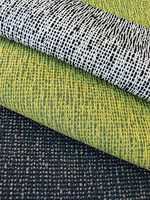 Mammoth textiles
This is the first release from the new LIFE (Low Impact For the Environment) textiles collection. It is suitable for upholstery, screens and wall panelling.
De Le Cuona Gallery collection
Designed by UK-designer Bernie de Le Cuona, this latest collection features ten new designs in 100 percent linen, velvet, silk and wool blend.
Nordic range
Using a Scandinavian aesthetic, this new range of prints combines embroidered drapery applications and multicoloured upholstery weaves.