This book shows how design can trigger an emotive response, whether in our workplace, via lighting or by triggering a sense of disgusted delight.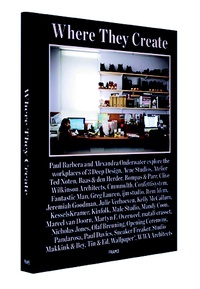 Step inside the working spaces of the world's creative set. From Melbourne to Amsterdam to Tribeca, this book takes you inside the studios, offices and headquarters of top creative companies and individuals. Photographer Paul Barbera started his blog Where They Create in 2009 and has since turned it into this book of the same name. 
Thirty-two workplaces are chosen here, from the cluttered-but-cool space of Wallpaper* magazine, to the taxidermy-filled studio of designer Kelly McCallum. In Melbourne's Sneaker Freaker magazine offices, a collection of one thousand-plus sneakers cramps a storage area and a Shaquille O'Neal cardboard cut-out encourages the team to make magazines. 
The insider photos are accompanied with Q&As, asking such questions as "Is smoking banned?" "Where's the nearest cafe?" and "Do you have office pets?" But I've noticed a few common links between creatives and their spaces: they're partial to bright tear sheets stuck on mood walls and cramming their pigeonholes with stuff, and they sure do love a succulent. It just goes to show those things will grow anywhere.
P. Barbera (Frame, 2011) 288 PP. $80.