One of the largest events on Australia's design calendar – Workshopped – will kick off its twelfth annual design exhibition on 31 October with a street party, Surry Hills style. More than eight hundred guests from the design, architecture, manufacturing and media sectors have been invited to the Hill Street Design Precinct where director Raymond Scott curates the Workshopped store of Australian design.
Workshopped 12 is co-presented this year with Sydney's Powerhouse Museum. It will exhibit work from more than sixty Australian designers alongside some Kiwi cousins and guests from the US, all under the marquee of Local Design, Global Market. Exhibits this year range from textiles to furniture, homewares to fashion.
The annual Workshopped exhibition is about spotting and nurturing Australian design talent. It was started in 2001 by a small band of Sydney designers who were keen to prove their mettle, and has grown into a highly-respected launchpad and place for designers to show their products for the first time on home ground. This year's Workshopped will also include three winning designs from the e-Magine student competition held by Workshopped in partnership with digital modelling company AMS. Ten finalists were shortlisted in August 2012 and the winning three will have their 3-D designs rendered by AMS for the exhibition.
If you miss the opening party or would prefer a quieter viewing, the Workshopped exhibition is open free to the public from 1 to 10 November, with an edited version popping up at the Moore Park Supa Centa from 14 to 25 November. 
Join the Workshopped community to be invited to the launch, or see more about the exhibitors at the Workshopped website.
Expect to see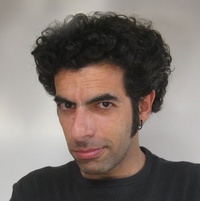 Exhibiting designer Asher Abergel is giving IKEA a run for its money with Bike-Up, his flat pack plywood treadlie that comes with an Allen key for assembly. Not only does Abergel assure us that it's safe for cycling, but its twin fins of plywood offer budding artists a blank canvas on which to paint, wallpaper or carve their personal leitmotif. Bike-Up has its origins in street art, skater culture and urban fashion. Sydney-based Israeli-born Abergel also counts architecture, photography and music among his influences. A graduate of industrial design at Bezalel Academy of Arts and Design in Jerusalem, Abergel is also a painter, illustrator and producer of comic books.