9 Dots Design competition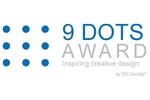 Entries are open to CSR Cemintel's inaugural 9 Dots Design competition. The competition is aimed at architects, interior designers, building designers and students the competition winner will receive a seventeen-day architectural study tour across seven European cities with award-winning Australian architect, Malcolm Carver.
The 9 Dots award challenge involves entrants preparing a residential design using a selection of key Cemintel products. The design must meet the needs of today's customer for an attractive, versatile and aspirational design where texture, colour and lifestyle are all important.
The judging panel of professional Australian architects, designers and colour experts, includes Lucy Sutherland and Kim Chadwick of Colourways; Melonie Bayl-Smith, director of Liquid Architecture and RAIA Adjunct Professor; and Malcolm Carver, Architect and former principal of Scott Carver Architects.
For further information and an entry form click here.