Victorian Emerging Architect Prize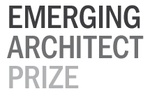 Entries are open for the 2013 Victorian Emerging Architect Prize.
To be eligable for the award, entrants must be a member of the Australian Institute of Architects, and Australian resident or permanent citizen and have graduated from a two-tier or five year Bachelor of Architecture or Masters course within the last fifteen years.
Entrants must enter within the state or territory where they live and be registered in that same state or territory.
Entrants will be judged on:
excellence in architectural practice, research or education;
Involvement in Australian Institute of Architects activities and/or forums of similar professional bodies;
Contribution to architecture through leadership within the profession; and
Contribution to community activities such as charity and voluntary work related to the profession is not essential but would be judged favourably.
Submissions must be received by 9 September 2012.