Built Environment Meets Parliament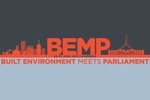 The Built Environment Meets Parliament summit at Parliament House, Canberra, will focus on community consultation, digital tools and the opportunities within the built environment profession to use new technology in innovative and exciting ways.
Summit sessions will focus on the COAG Reform Council report on strategic planning of capital cities, innovative approaches to community consultation and engagement, the use of new digital technologies suchas BIM and 4D modelling, and will ask what's the next big revolution in building cities.
Speakers and panellists
Michael Argyrou, Unitised Building
John Bilmon, PTW Architects
Matthew Crozier, Bang The Table
Dr Mark Elliott, Collabforge
Ben Guy, Urban Circus
Brendan Lyon, Infrastructure Partnerships Australia 
Innes Willox, Australian Industry Group
Michael Zorbas, Stockland
Registrations are now open for BEMP.