World Conference on Timber Engineering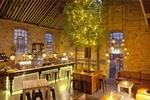 This event gives delegates the opportunity to learn the latest international developments in timber construction, performance and research. Focused on commercial scale timber construction, the conference includes more than 300 presentations from thirty-six countries.
Keynote speakers include Professor Hans Blass, a European research and consulting engineer; Robert Malczyk, Canadian design and construction engineer; Michael Green, Canadian architect; and Naoto Ando, Emeritus Professor and Project Professor at the University of Tokyo and Chairman of Japan's Lumber Export Association.
For more information and registration visit the WCTE website.