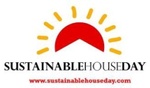 Now in its eleventh year, Sustainable House Day takes place on Sunday 9 September, and will showcase some of Australia's most sustainable homes to the public.
Homes will open their doors for tours and give visitors an opportunity to see the benefits and practicality of solar power, effective ventilation, water harvesting, recycling, shading, thermal mass, glazing and window treatments, gardens, and lifestyle products. Architects, builders and specialist service providers will also be on hand at many of the homes to provide expert tips.
Homes are open between 10 am – 4 pm. Entry is free.