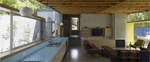 The Australian Institute of Architects' Robin Boyd Award for Residential Buildings is Australia's most prestigious annual architectural residential housing award. It is awarded to houses that set new benchmarks in terms of meeting the client's needs, responding to its site, and providing shelter which is at the leading edge of house design. Architects receiving the award are regarded as the best in Australia. 
Architect Rachel Neeson and her client Kathy Kostas will discuss the design of two exceptional houses – Zac's House, winner of the award in 2009, and a second house just completed on the same site.
The event opens at 6.00 pm for a 6.30 pm start. Tickets must be booked in advance at a price of $25 for the general public, $20 for Robin Boyd Foundation members and $10 for students. A booking form and further information can be found on the Robin Boyd Foundation website.