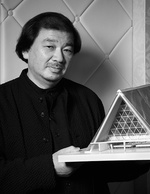 Shigeru Ban talks about his cardboard cathedral for earthquake damaged Christchurch, New Zealand, at the University of Adelaide.
Shigeru Ban designs beautiful and experimental architecture particularly using cardboard as a primary building material. 
The presentation, followed by a Q&A, will be held 1–3 pm.
More information available from University of Adelaide.