Architecture Australia, March 2017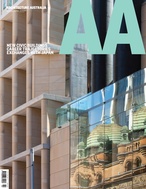 March 2017 (Issue 2)

An introduction to the March/April 2017 issue of Architecture Australia.

Crone Architects' addition to the civic precinct of Orange in New South Wales is a highly refined building and suite of generous public spaces that "grow" out of the landscape and connect seamlessly with the existing pedestrian network.

Two new towers by Candalepas Associates, the hotel QT Melbourne on Russell Street and the AHL Headquarters on George Street in Sydney, complement the existing fabric of the city with compositional finesse.

A Japanese–Australian collaboration between Tato Architects and Phorm Architecture and Design has resulted in an unusual hybrid of contemporary Japanese design and the local Queensland vernacular.

Ahead of Shigeru Ban's first Australian exhibition, to be presented at SCAF in March, Julian Worrall provides insight into the architect's distinguished portfolio and ethical approach to architecture.