Artichoke, September 2016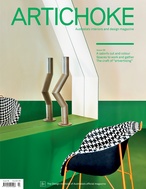 September 2016 (Issue 56)

An introduction to the September 2016 issue

In Waterloo, Sydney, design firm BrandWorks has used a little thing called luck to create So 9, a refined and minimal Vietnamese restaurant.

At the base of the new Australian Taxation Office building in Melbourne's Box Hill, this new cafe by We Are Huntly plays on the concept of "penny dropping."

How do you design a ten-week pop-up restaurant in Sydney with a 27,000-person waitlist, for one of the most famous chefs in the world? Foolscap Studio has the answer.

Bates Smart has rethought the conventional workplace in its design of an office for an architectural physicist in Melbourne's CBD.