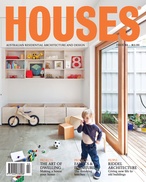 April 2012 (Issue 85)

As well as restoring and adapting old buildings, Riddel Architecture has a growing suite of new residential projects.

Riddel Architecture's preferred materials and finishes.

Furniture designer Keith Melbourne draws on the tenets of his former profession to create a form of "artistic engineering."

Family design studio Sparkk uses digital printing technology to produce fabric and wallpaper in bulk or short runs.

James Fitzpatrick reflects on his first project: his own house and first studio in Glebe.

A collection of textiles from Houses 85.

Colourful products for inside and out from Houses 85

This exhibition explored a world of hidden meanings through poetic assemblies of found and new objects.

Alterations, landscape and collected artworks are as important today as Robin Boyd's original design.

The organic forms of this Hong Kong apartment by Affect-t are the result of international connections and productions.