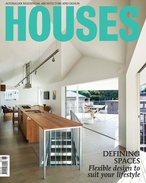 December 2016 (Issue 113)

Introduction to Houses 113.

Working across interior and product design, London-based Ilse Crawford of Studioilse aims to make the "small moments of every day matter."

A layered arrangement of volumes and materials gives this new home by Andrew Burges Architects a spatial richness and complexity that balances privacy and outlook.

A terrace house renovation by Adrian Amore Architects with a stair that functions as much more than just vertical circulation.

This alteration and addition to an inner-city terrace house by Jackson Teece is a second attempt by the owners to create their dream home. This time around, they have succeeded.