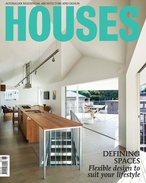 December 2016 (Issue 113)

Introduction to Houses 113.

Working across interior and product design, London-based Ilse Crawford of Studioilse aims to make the "small moments of every day matter."

The spirit and character of a modest postwar bungalow have been retained and celebrated by its architect-owner, who has reconnected the home to its backyard.

Sam Crawford Architects has restored and extended a weatherboard cottage towards views of a heritage-listed Moreton Bay fig tree in the backyard.